Halloween is around the corner, and if you're looking for a scary read Shannon McKenna Schmidt has a suggestion.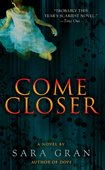 My group's most recent discussion book was Come Closer by Sara Gran, an eerie and thought-provoking horror novel.

Come Closer is a quick read, and Gran packs a lot into about 200 pages. The story is narrated by Amanda, a thirty-something architect who lives a quiet life with her husband, Ed, in a New York City borough...until things start going awry. Amanda begins hearing a tapping noise in her apartment but can't locate the source, experiences blackouts, and deliberately burns her husband with a cigarette, among other things. Gradually, as she puts the pieces together, she comes to believe that she's possessed.

My group has read plenty of leave-the-lights-on books through the years, including the excellent and atmospheric Something Wicked This Way Comes by Ray Bradbury and The Haunting of Hill House by Shirley Jackson. Frightening in other ways were the true crime narratives In Cold Blood, Truman Capote's account of the murder of a family in Kansas, and Helter Skelter about the killing of actress Sharon Tate and others by the Manson family.

For a truly scary read, though, Come Closer trumped all of those books. I couldn't put it down. Novelist George Pelecanos summed it up perfectly when he said about Gran's tale, "Days after finishing it, it has not left my mind." What makes Come Closer so frightening are the psychological issues Gran delves into. The central question in the story is whether or not Amanda is possessed by a demon or experiencing a slow slide into insanity, and Gran vividly depicts her transformation from a relatively normal existence to someone who is volatile and self-destructive. Amanda begins to see demons on the bus, at her office, and among her acquaintances. People she just meets know things about her they should not.

There are no clear-cut answers to some of the questions the novel raises, and it's up to reader to determine the meaning of certain plot points --- making Come Closer a perfect discussion book. As one member of my group commented, "It's whatever you think it is."
---Shannon McKenna Schmidt