Book club facilitator and RGG.com contributor Esther Bushell has been busy turning the pages, and she offers her thoughts on some of the books she has read this summer. She also shares some terrific news: the launch of her website, LiteraryMatters.net.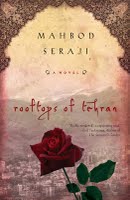 I haven't posted a blog in ages, and every excuse is valid! First of all, let's understand that this is a non- summer. We've had rain twice: once for 30 days and then again for 20 days. The good thing is that I've holed up and read nearly all summer -- and interestingly, mostly advance reading copies. The other wonderful thing that happened to me is the launching of my website. Go to
LiteraryMatters.net
to see what I've been doing.
I started off summer reading on a high note with my friend
Mahbod Seraji
's debut novel,
Rooftops of Tehran
. Last October at
Book Group Expo
in San Jose, Carol Fitzgerald and I spent some time with Mahbod, and we were won over not just by his book but also by his sincerity. You can read my post about Mahbod and the book
here
, but what we didn't know then is that it was selected by Villanova University for its One Book Villanova Program. This is an honor and recognition well-deserved, and I remember being struck by its importance for students.
I loved
Sarah Dunant
's latest,
Sacred Hearts
. I think that we're all fans of her thoroughly researched and so well written historical fiction.
I'm a huge of fan of Nicholson Baker, so if you love his books, you'll love
The Anthologist
(on sale September 8), a quiet little treasure about a poet who has committed to writing an introduction for an anthology of poetry.
One of my favorite books is
The Shadow of the Wind
by Carlos Ruiz Zafón, and I've discussed it with nearly every book group I moderate. His new novel,
The Angel's Game
, is garnering good reviews.
Put in your order now for E.L. Doctorow's newest,
Homer & Langley
(on sale September 1). Doctorow takes very real people, the Collyer brothers, and creates yet another masterpiece of myth as history/history as myth. I read this new book in just one sitting.
My summer favorite, appropriately enough , is
Love and Summer
(on sale September 17) by William Trevor. I read this twice because the eloquence of his writing is staggering and distracting, and then I went back to see what it was all about. Whenever you ask an author who she/he reads, Trevor is always included in the list.
The Story of Lucy Gault
is significant; read that one, too.
The day that the long list for the Man Booker Prize was announced, I coincidentally began --- and finished --- Sarah Hall's
How to Paint a Dead Man
. This book deserves to be included on the list. Few writers today handle characterization the way that Hall does.
Last night I finished
Spooner
by Pete Dexter. Despite the fact that it's a doorstop, I couldn't put it down. I know that Dexter is often too noir for some people, but I developed a relationship with his characters and became very involved in their lives. Watch for it next month; it won't disappoint.
I'd love to hear from you as these books are published and you read them. Let me know what you've loved and would like to discuss with your book group.
---Esther Bushell