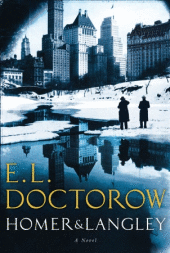 Do you want to show off your bookshelves? Random House has created a
Facebook group
--- "I have more books than Facebook friends" --- to coincide with the publication of
Ragtime
author
E.L. Doctorow
's new novel,
Homer & Langley
, which is on sale tomorrow, September 1st. Readers who join the group and post pictures of their book collections (aka "literary clutter") will be eligible to win a signed first edition of
Homer & Langley
and copies of Doctorow's previous books. The contest begins tomorrow and runs through September 30th.
Homer & Langley
is the story of New York's fabled Collyer brothers, two recluses who hoarded items in their mansion and attempted to shut out modern civilization.