Today's guest blogger is Ad Hudler is a novelist, essayist, stay-at-home dad and small-space landscaper who frequently gets into trouble for the things he writes and says. New York Post called his latest book MAN OF THE HOUSE "required reading."
Ad had a chance to be one of just a couple dudes hanging out with The Pulpwood Queen's Book Club at their annual Girlfriend Weekend. Check out the great photos and his report:
Okay, book-club members, get ready to drool with jealousy.
I just returned from Jefferson, Texas, a historic river town of quaint 19th-Century houses, many with porches that lean to the left or right, bowing to gravity and age. It's also home to the annual Girlfriend Weekend, which occurred Jan. 14-17.
Explanation: For many years, book lover and beautician Kathy Patrick has owned what might be the world's only beauty salon/bookstore, and she has started a chain of book clubs called
The Pulpwood Queens
that has grown into a nationwide network of clubs so large she's been on Oprah and in many national magazines and newspapers. (Go to
Beautyandthebook.com
for more details) There's nary an agent or publisher who doesn't strive to get his/her authors' books on her list. All of we authors in attendance will have our books read by Pulpwood Queens in 2010 (Thanks, Kathy!) She's also written a book herself:
The Pulpwood Queen's Tiara-Wearing Book-Sharing Guide to Life
.
Each year, Kathy puts on what is known as Girlfriend Weekend. She invites some authors and Pulpwood Queens from throughout the South to get together and mingle for two days of readings and parties. Most of the Queens come dressed in tiaras and animal-print or bright-pink clothes. This was the 10th anniversary of the Girlfriend Weekend, and Kathy went all out. Some of the highlights:
Pat Conroy and Melissa Conroy, his daughter who is a children's book author, sat together on stage and talked about their family dynamic and history. Kathy has a lifelong fascination and love of the elder Conroy's work, and she was nearly breathless with excitement when introducing him.


Jamie Ford, author of the huge-hit novel Hotel on the Corner of Bitter and Sweet, read from his work and talked about the research behind the book. Incidentally, Jamie also is a pretty good dancer, and he took a liking to one of the Pulpwood Queen's red feather boas during a raucous dance one night. We couldn't get it off of him.


Barbie and Ken Fashion Show. Each author and Pulpwood Queen dressed up as a themed Barbie or (in the case of Jamie and me, the only males in attendance) a Ken. Costumes, all of them clever, ranged from cute to naughty: Alpha-female Bitch Barbie, Backwoods Barbie and Three-way Barbie, in which a trio of women came dressed as blond-bombshell triplets.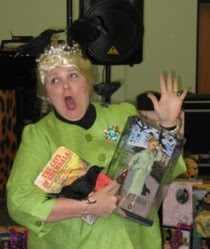 But Kathy outdid us all:
Don't worry; we weren't sure what she was, either: Alfred-Hitchcock's-Tippi-Hendren-from-The-Birds Barbie.
Over two days, author after author was interviewed, a la Johnny Carson, by Kathy and perennial host Robert Leleux, author of The Memoirs of a Beautiful Boy. Just to name a few: Elizabeth Berg, Patti Callahan Henry, Ron Hall, Mary Kay Andrews and Nicole Seitz.
The climax of the weekend was the Great Big Ball of Hair Ball. Theme was Wizard of Oz, also one of Kathy's favorites as she is a Kansas native. You would not have believed the thought and effort that went into the costumes. Take a look at these:
Not all the authors dressed up. Here's a shot of me as The Great and Powerful Oz (costume designed and executed by my wonderful daughter, Haley), along with, left to right: author Jenny Gardiner, who dressed up as Judy Garland in her later, sadder years (note the pill bottles); soon-to-be-author Karen Harrington as young Dorothy; and Jamie Ford and Patti Callahan Henry as themselves.
--AD HUDLER (
AdHudler.com
)