Did you think we were done at Part 4? Nope. I was just giving you a chance to relax and absort it all! I still more great book club books coming your way. Well okay, it's not actually me. We're still going through the great books presented by the publishers at BEA! Next up in our series is Karen Torres, VP Trade Sales Marketing Director and Field Sales Director for Hachette. She presented the following: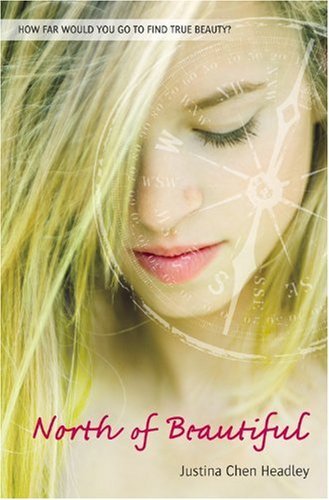 NORTH OF BEAUTIFUL by Justina Chen Headley
Trade Paperback on sale now!
One of our regular guest bloggers, Cindy Hudson has already talked about this YA crossover in a recent post, so it was interesting to see that the publisher is putting their weight behind it too.
This book is a coming of age story about a beautiful girl except for her "flaw". She has a large port wine birth mark on her face. The book deals with the meaning of true beauty but it also deals with verbal abuse and self worth. As Cindy points out in her post, though it was written for teens it has plenty for adults to sink their teeth into as well.
WHEN EVERYTHING CHANGED by Gail Collins
Trade Paperback on sale October 21, 2010
After all the great recommendations including this one by Karen Torres, someone in the audience raised their hand and asked why no non-fiction had been recommended. Karen quickly pointed out that she had recommended this one, though all the editors admitted they leaned more towards fiction for their book club picks. So what makes this one so special?
Well, the subtitle is "The Amazing Journey of American Women from 1960 to the Present" for starters. And then there's the "down-to-earth, amusing, and agenda-free tone" from popular New York Times columnist Gail Collins. Well researched and well written, this could be a fun way to learn and relive the recent past history of women.
SPOONER by Pete Dexter
Trade Paperback on sale October 25, 2010
This is one of those books that I keep picking up but haven't yet bought. It intrigues me. I've heard only good things. And now that the paperback is coming I'll have no excuse. Here's the description of the book from the publishers site:
"Warren Spooner was born after a prolonged delivery in a makeshift delivery room in a doctor's office in Milledgeville, Georgia, on the first Saturday of December, 1956. His father died shortly afterward, long before Spooner had even a memory of his face, and was replaced eventually by a once-brilliant young naval officer, Calmer Ottosson, recently court-martialed out of service. This is the story of the lifelong tie between the two men, poles apart, of Spooner's troubled childhood, troubled adolescence, violent and troubled adulthood and Calmer Ottosson's inexhaustible patience, undertaking a life-long struggle to salvage his step-son, a man he will never understand."
Karen also recommends:
THE YELLOW HOUSE by Patricia Falvey
Trade Paperback on sale February 2011
THE HUNDRED THOUSAND KINGDOMS by N.K. Jemisin
Trade Paperback on sale now!