Welcome to the 6th and final installment of "From the Publishers: Hot Fall Book Club Titles"! In case you haven't read the earlier segments, the publishers got together for a chat at last month's BookExpo America and presented their company's hot fall book club picks. And I'm running through them here so that you'll have lots to consider in the upcoming months. The last editor to speak was Jane von Mehren, Senior VP/Publisher Trade Paperbacks from Random House. Here's what she presented: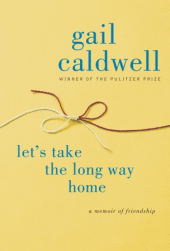 LET'S TAKE THE LONG WAY HOME by Gail Caldwell
Hardcover on sale August 10, 2010
Memoirs have become more and more popular, especially for book clubs. Though not an easy topic, the book should provide a thought provoking look at our own friendships and give us plenty to talk about.
"It's an old, old story: I had a friend and we shared everything, and then she died and so we shared that, too."

So begins this gorgeous memoir by Pulitzer Prize winner Gail Caldwell, a testament to the power of friendship, a story of how an extraordinary bond between two women can illuminate the loneliest, funniest, hardest moments in life, including the final and ultimate challenge.
THE LAST TIME I SAW YOU by Elizabeth Berg
Trade Paperback on sale November 23, 2010

Ah class reunions... the fodder for many a book and movie. This time though the book comes from the beloved bestselling author of HOME SAFE and THE YEAR OF PLEASURES. It's not that sexy 10 year reunion though when everyone is still available and looking hot. This one is oh so much more real...it's the 40th.
To each of the men and women in THE LAST TIME I SAW YOU, this reunion means something different—a last opportunity to say something long left unsaid, an escape from the bleaker realities of everyday life, a means to save a marriage on the rocks, or an opportunity to bond with a slightly estranged daughter, if only over what her mother should wear.
MRS. SOMEBODY SOMEBODY by Tracy Winn
Trade Paperback on sale now!

We've seen how well short story collections have been doing of late and how well some have worked for book clubs.
In this astonishing debut, Tracy Winn poignantly chronicles the souls who inhabit the troubled mill town of Lowell, Massachusetts, playing out their struggles and hopes over the course of the twentieth century. Through a stunning variety of voices, Winn paints a deep and permeating portrait of the town and its people: a young millworker who dreams of marrying rich and becoming "Mrs. Somebody Somebody"; an undercover union organizer whose privileged past shapes her cause; a Korean War veteran who returns to the wife he never really got to know—and the couple's overindulged children, who grow up to act out against their parents; a town resident who reflects on a long-lost love and the treasure he keeps close to his heart. Winn's keen insight into class and human nature, combined with her perfect, nuanced prose, make Mrs. Somebody Somebody truly shine.

Jane also recommends:
THE PRIVILEGES by Jonathon Dee
Trade Paperback on sale October 5, 2010
BAKING CAKES IN KIGALI by Gail Parkin
Trade Paperback on sale August 31, 2010