In today's post regular contributor Jamie Layton shares her choices for the beach this year.
Summer Oh-Ten is OH-fficially here and thus sending earnest readers everywhere hunting for good 'beach books'. These books don't necessarily have to go to the beach- they can go to the pool, the park, out on the boat, or wherever else the reader may find themselves enjoying a few relaxing hours of this most wonderful of seasons. A good beach book is easy to handle (therefore almost always a paperback), doesn't mind getting tossed in the beach bag or boat tote, isn't allergic to sunscreen, sand or water (which rules out most library books) and features several key ingredients: sympathetic characters, unresolved issues, second chances, tangled relationships and more. Oh yeah, and a coastal setting never hurts- especially if an image of such is featured prominently on the cover.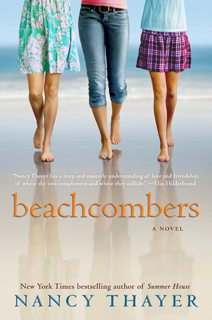 The line-up for this Summer is stunning and has been selling briskly in our store as the OBX tourist season continues to pick up. If you've read my posts before, you'll know I usually have an exception to every rule and these first two books are just that. Two recent hardbacks are ideal beach reads. Nancy Thayer has just released her latest in a string of pearls- BEACHCOMBERS. Standing alongside this title are her steadily performing paperbacks- SUMMER HOUSE and MOON SHELL BEACH. Thayer knows what she's doing in this genre and continues to prove it.

A match made in heaven for my store is THE OUTER BANKS HOUSE by Diann Ducharme. Not only is it from the popular historical fiction genre but it has a post-Civil War Nags Head setting. This is going to please all kinds of readers- and if you're going to be in Duck on August 12, stop by Duck's Cottage where Diann will be signing copies of her book.

Two new paperback releases men will feel comfortable holding while lounging in their camp chairs are SAG HARBOR by Colson Whitehead (if you were a teen in the 80's you'll appreciate Whitehead's take on summer in the Hamptons) and THAT OLD CAPE MAGIC by Richard Russo. A beach book I liked from last year is new in paper this week and that's BEACH TRIP by Cathy Holton- the story of the reunion of four college friends at a beach in- guess where- North Carolina.

Over on the chicK lit shelves are two light rollicking reads- Sophie Kinsella's TWENTIES GIRL and Jill Kargman's THE EX MRS. HEDGEFUND. Joanna Trollope will please many with THE OTHER FAMILY as will BUFFLEHEAD SISTERS by Patricia J. DeLois, Martha Moody's BEST FRIENDS and SOMETIMES MINE, Karen White's latest South Carolina set book ON FOLLY BEACH, THE HOUSE ON OYSTER CREEK by Heidi Jon Schmidt and THE LANGUAGE OF SAND by Ellen Block.

Whew! Told you there were a lot of good summer reads out there! Now pick one, and regardless of whether you end up reading it on your favorite beach, in a city park on your lunch hour or at the end of the day in your own back yard- I promise, wherever you are it will feel like summer.
-- Jamie Layton, Regular Contributor and Manager of Duck's Cottage Coffeeshop & Bookstore