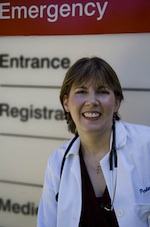 Today's guest blogger is not only an author, but a pediatric ER doctor. I don't know how she finds time to do it all! As a doc she has assisted police and prosecutors with cases involving child abuse, rape, homicide and Munchausen by Proxy and has worked in numerous trauma centers, as a crisis counselor, victim advocate, as well as a flight physician for Life Flight. CJ credits her patients and their families for teaching her the art of medicine and giving her the courage to pursue her dream of becoming a novelist.
As a novelist, she has written the award-winning, critically acclaimed Angels of Mercy series (LIFELINES, WARNING SIGNS, URGENT CARE, and CRITICAL CONDITION) which is in stores now. Her newest project is co-authoring a suspense series with Erin Brockovich. It starts with the release of ROCK BOTTOM in March, 2011. Pretty cool, right?
In today's post, CJ talks about how the current series got started and what writing and sharing with readers has meant to her.

Hidden in the Pages
I've had the pleasure of discussing my Angels of Mercy medical suspense books with book clubs across the nation. They almost always start off a bit shy, saying they chose one of my books (
LIFELINES
,
WARNING SIGNS
,
URGENT CARE
, or
CRITICAL CONDITION
) because they wanted a "light" read.
I don't mind! My books are fun, fast, beach-reads—or in the case of CRITICAL CONDITION which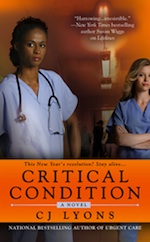 takes place during a blizzard, a curled up by the fire with the cat sleeping on your lap, read, lol!
I actually work very hard to keep them fast-paced. In fact, CRITICAL CONDITION takes place in "real" time—the entire action is less than five hours—and is so tightly paced that I literally had to write it backwards.
But after everyone finishes talking about how wonderful it was to find a good book hiding under a paperback beach-read cover, they always ask how a nice pediatrician like me ended up writing thrillers?
I wish my answer was a funny, light, beach-read story….truth is, I needed a hero. More, I needed to learn how to become my own hero.
You see, I've been a writer all my life. Writing is my way of understanding the chaos that is the real world. Then came a time when my writing saved me.
It was during my pediatric internship in Pittsburgh. One of my fellow interns was killed. Murdered in a fashion so horrendous it made national headlines.
How could any of us go back to "normal" after that? Continue to make our tiny patients giggle while helping and consoling their families? What kind of world did we really live in?
We each coped in our own way. Mine was to write. I turned from the science fiction I'd written during medical school (talk about escaping reality!) and tried my hand at my first work of crime fiction.
I tortured my characters—made them suffer as much pain as I felt. But I also watched them do the one thing I was struggling with: find the courage to fight through the pain and injustice and unfairness and take action to make things right again.
Somehow my characters learned to become heroes—and they empowered me to get out of bed every morning even when all I wanted to do was hide beneath the covers, they inspired me to fight for my patients even if it meant breaking the rules, they taught me that we all have the power to change the world and become heroes.
When Berkley asked me to create a new kind of medical thriller—one told from the point of view of women—I leapt at the chance. I thought it would be great fun. And it was.
But after LIFELINES became a bestseller, I began getting fan mail. Hundreds of letters from all over. Mostly from women thanking me for my characters and their stories—telling me how my characters helped them make it through rough times in their lives.
Some of the letters made me cry. I knew what it felt like as a doctor to hold a life in my hands, but this was even more powerful—these were people I'd never met, who only knew me through the words I put on a page.
The idea rocked my world. That I had created characters who felt so real that they were able to inspire and empower…I mean, after all, these are fun beach-reads, right?
But of course that's the power of storytelling. Books provide us with heroes even when we don't feel very heroic ourselves.
So tell me…which fictional characters have inspired you? Who do you turn to for a comfort read?
Thanks for reading!