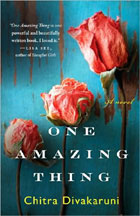 Happy New Year to all of our Reading Group Guides readers, supporters, guest bloggers, regular contributors and friends.
We want to thank you for being a part of our family this year and look forward to sharing more great tips, authors, and of course reading group guides with you in 2011!
If you're not already a subscriber, you may want to check out our newsletter to make sure you stay up to date with everything RGG... and if you subscribe today, you'll be entered for chance to win a copy of ONE AMAZING THING by by Chitra Banerjee Divakaruni for your reading group!
Have fun tonight, relax tomorrow, and may 2011 be a year of wonderful reading for you and yours!
-- Dana Barrett, Contributing Editor (and all the gang here at RGG!)