More than 100 weeks on the New York Times bestseller list…More than 2.5 million hardcovers in print…Available in more than 40 countries…and soon to be a major motion picture this summer…
And now
The Help
by Kathryn Stockett is available in paperback!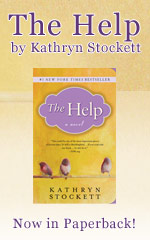 Set in the segregated South of the early 1960s,
The Help
tells the story of Skeeter, an ambitious young white woman, and the two African-American maids --- Aibileen and Minny --- whose lives she chronicles.
The Help
takes readers back to a time and place where not all people were treated equal and civil freedoms were not guaranteed. It is a deeply moving story of race, class and the meaning of family that unfolds during one of the most tumultuous time periods in American history.
The Help
is a book that sparks many emotions and debates about our country's past while we continue to build a better future.
We hope you enjoy this special Bookreporter.com feature and tribute to
The Help
. Below you will find a wealth of information about the book, including our Bookreporter.com review, a reading guide, author tour dates, film information and links to articles of interest. We also invite you to answer our
question of the week
for
The Help
.
Kathryn Stockett will be visiting bookstores and community centers around the country in support of
The Help
's paperback release. Check out her
tour schedule
!