Novelist Shilpi Somaya Gowda, author of the international bestseller Secret Daughter, discusses the spirit and special bond of her own book club, as well as those she's met along the way. Secret Daughter is now available in paperback! Click here for a special video.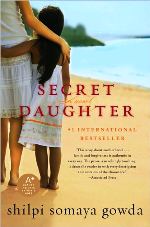 Book clubs have been an important part of my life for many years. My first book club was composed of business school classmates in San Francisco, and is still going strong. Over a dozen years, we read books ranging from a dense biography of the Roosevelts to the Harry Potter series. We have debated non-fiction tomes, wept through inspirational memoirs, been swept away to biblical times and to foreign lands.
Each month, we (usually) read the book, often disagreed, and always held our discussions amongst great food and an open spirit. While the books themselves provided ample fodder for our discussions and relationships, so too did our lives. In the same dozen years, our group had six weddings, added over 20 children to its fold, and saw five members move away, including me.
Though our lives became more hectic, we continued to meet, and over all those years something quietly remarkable happened. We supported one another through heartbreak, career changes and health challenges. We have cried on each other's shoulders, stood up at each other's weddings, held each other's babies. We have formed the kind of deep friendships that will nourish our souls through a lifetime.
Books provided both the opportunity to reflect on our lives, and to think about the larger world --- to consider ourselves in the context of generations before us and cultures beyond our borders. That opportunity for reflection and connection is, in my opinion, the greatest role art can play in life.
Through the years, I have joined other book clubs, and though each group is different, they all share something in common --- a spirit of openness and goodwill, a desire to think and discuss, and in doing so, to marry our individual lives with the greater world. During the many years I worked in the business world before I began to write, reading and book clubs nurtured the part of my mind that loved to live in a story.
When I was writing
Secret Daughter
, I lived inside that story, and the characters were real people only in my mind. In the past year since it was published, I've had the pleasure of meeting and hearing from thousands of readers for whom Asha, Kavita and Somer are also alive. Many people have told me this book helped them understand their Indian colleagues, neighbors, patients, clients or roommates a little better.
I heard from a young woman in Montana who was adopted out of an Indian orphanage as an infant, along with her sister, and said that she always felt a hole in her heart because she didn't know where she came from or why her parents would give her away. After reading this novel, she said she felt at peace.
I've heard from dozens of women who've suffered from infertility but couldn't talk about it to anyone. They felt no one understood them, but Somer, the American character who can't have children, spoke for them, and they shared the book with their loved ones to help them understand.
Some of my favorite emails come from men, who say (sheepishly) that they picked up the book from their wives or their daughters, and tell me they couldn't put it down. One man told me this book made him appreciate the women in his life more --- his mother, his wife and his grown daughters.
I've also had the pleasure of sitting in on over a hundred book clubs, either in person or via Skype, where I've seen great discussions about the various faces of motherhood. What does it mean to be a good parent? How much can a mother forsake her own needs for her child? I've seen them engage in heated debates over moral questions. Is it really wrong to commit a crime if it's in the name of survival? Can a father responsible for the death of his own child ever go on to redeem himself?
The reason I read is that a great novel has the power to transport me to another place or time, and at the same time, to reflect a little bit on myself and my life. I love when I hear book clubs pondering questions about our culture vs. others. How are the roles of women similar and different in this country and others? Does economic class play just as discriminating a role in American society as gender does in Indian culture?
It's my hope that if you read about these characters in very different circumstances, you'll find some universal meaning in what they're going through, and I invite you to reach out to me and share your thoughts.