Author Margaret Leroy's latest work, The Soldier's Wife, is a story of love and fear that takes place on the island of Guernsey --- off the coast of Normandy --- as World War II draws near. When the Occupation turns brutal, Vivienne de la Mare, who is wrapped up in a love affair, must decide if she is willing to risk her personal happiness for the life of a stranger. Bookreporter.com's Melanie Smith spoke with Leroy about her inspiration for the novel, and how her family history, motherhood and social work helped inform the narrative. She also talks about falling in love with Guernsey and imagining what it was like growing up in wartime.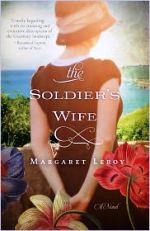 Bookreporter.com: What inspired the idea of writing about a love affair in occupied Guernsey during World War II?

Margaret Leroy: The seed of the story was planted a long time ago, in 1992, when the government papers relating to the Occupation of the Channel Islands were released. I remember reading about the Occupation in the newspaper --- this was well before I became a novelist --- and thinking at once that this could make such a wonderful story. The idea stayed in my mind for years until I felt the right moment had come to begin to write the book.

BRC: Did you travel to Guernsey? What research did you do?

ML: I took a research trip to Guernsey and fell in love with this little island. I explored the deep lanes of St. Pierre du Bois, where I decided Vivienne, my heroine, would live, and I found a house that seemed perfect for her --- a tranquil, white-washed house surrounded by orchards and woods. There was a gravel yard in front of the house, with a table and chairs set out there; in summer you could drink your coffee there, in the leaf-speckled light. I imagined the idyllic life you could lead in that place; and then how it would be to have that life so violently disrupted, with officers of Hitler's army living next door. As soon as I'd found this house for my heroine, the story began to take shape.

BRC: While love blossoming in trying times is a theme in The Soldier's Wife, there is also the difficult task of parenting during wartime. Vivienne de la Mare is determined to preserve some sense of normality and innocence for her daughters even while surrounded by enemies. Her role as a mother is equally as important as her role as a lover. As you were writing, were you thinking of how to balance those two storylines?

ML: I felt the two storylines could work well together. The fact that Vivienne is a mother raises the stakes in the story: the risks she takes are greater, and the moral issues more acute, because through her actions she may be endangering her adored children. But, at the same time, her love affair sustains her in her mothering and helps her to keep going through the dark times. The love affair feels like a safe place to retreat to: the lovers imagine they can close the door on the outside world and the war when they're together. But as the story develops, the war begins to intrude on the sweet, secret life that they share.

BRC: The Guernsey Literary and Potato Peel Society was published in 2008. Where were you in your writing process when that book came out? Did you read it?

ML: I'd just started writing my own story when the book came out. And though I was intensely curious, I made a deliberate decision not to read it until I'd finished my story. This wasn't because I was worried about overlap: the Occupation was a complex event, and there's room for plenty of stories about it. It was rather because, like most writers, I sometimes remember what I read quite exactly, and there's always a risk that another writer's style will bleed into your own --- especially if your subject matter is similar. So it was a real treat to open Mary Ann Shaffer's book once I'd finished mine. I adored it: it's such an enchanting book.

BRC: Each book gives readers a snapshot of this tiny island during the war. What do you think was the charm and appeal of writing about Guernsey?

ML: Guernsey is very beautiful. It has a temperate French climate and a very British feel, and that special clarity of light that you only find on small islands. And it feels so peaceful, with its orchards, flowering hedgebanks, little streams. For me, part of the appeal of the story idea was the shocking contrast --- there's this lovely, tranquil island, and then the Nazis march in. I also liked the way many of the issues that war raises are there in a microcosm on Guernsey. How should you react to the enemy? These men are representatives of a brutal regime --- but they maybe don't want to be fighting; you get to know them, they even show you photos of loved ones they've left behind. How can you hate them? And then, when the slave workers arrive on the island, the moral challenges become especially agonizing. Is it right to help a desperate stranger, if to do so could put your own family at risk?

BRC: How much do you feel war survivors are marked by their experiences? Are war children more or less likely than adults to come away seeing things positively?

ML: It's a difficult question to answer, because in the UK that experience shaped an entire generation. For people like my parents who lived through World War II as young adults, I think there was a tremendous need to establish a sense of safety in the post-war years. Perhaps also a fear of taking risks, and gratitude for the big, simple things --- health, a family. People aspired, above all, to have stability and security. I think that aspiration contributed to the culture of the 1950s; and maybe in Europe the upheavals of the 1960s were in part a reaction against the stasis of those years.