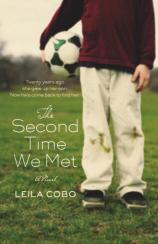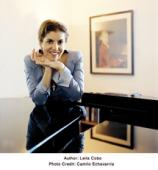 Renowned journalist and former concert pianist, Leila Cobo is a native of Cali, Colombia, the Executive Director of Latin Content & Programming for Billboard, and the host of the television show Estudio Billboard. Leila is a Fulbright scholar with a graduate degree from the Annenberg School of Communications at USC and holds dual degrees in journalism, from Bogota's Universidad Javeriana, and in piano performance from the Manhattan School of Music. Her latest book, The Second Time We Met, follows a young soccer player who decides to go in search of his biological mother --- the girl who gave him up for adoption in Columbia two decades ago. Here, she shares some of her own family history.
At the turn of the 20th century, when he was only 14 years old, my grandfather Joseph left his impoverished existence as the son of a Christian minister in a tiny town in Northern Lebanon, got on a boat bound for somewhere across the Atlantic, and ended up on the other side of the world in the hot, muggy city of Barranquilla, in Colombia's Northern coast. Family legend says he made the trip with an older cousin and with a single, golden coin given to him by his mother.
What we know for a fact is that my grandfather started a trading business up and down the Magdalena river on Colombia's Pacific and Atlantic coasts and became a rich man, eventually expanding to New York, where he met and married my grandmother, an immigrant seamstress 20 years his junior.
We also know that somewhere down the line, my grandfather changed his surname, from the Arabic M'Barak to the Spanish, streamlined Cobo.
Through the years, I was told my grandfather changed his name in honor of his traveling cousin, Jacobo, or alternately, that he took the name in honor of Colombian general Vázquez Cobo, under whom my grandfather fought during the Colombian Civil War. I never met my grandfather, who died when my dad was just a child, and I always envisioned his life as a grand, swashbuckling adventure, replete with a romantic name change, no less.
But recently, my brother in-law told us he'd spoken with a friend whose long-dead grandfather, an attorney, had done the paperwork for my grandfather's new identity. The reasons he'd cited back then for changing his name were purely practical: M'Barak was difficult to spell, difficult to pronounce, and in Colombia—a country then leery of immigrants—it adversely affected his ability to do business. He chose "Cobo" because it was symmetrical, had a single, repeating vowel, and yes, it had a link to General Vazquez Cobo, whom my grandfather admired. The choice of name had nothing to do with "cousin Jacobo" or anything linked to his past.
Indeed, despite his hard-earned prosperity, my grandfather never returned to his hometown in Lebanon nor did he ever bring his parents to Colombia. He was a prolific writer and a methodical record-keeper, but in his arsenal of letters and business records there is not a single mention of his previous life. He went from being Jose M'Barak to Jose Cobo and that was that.
I've always been fascinated by the concept of reinvention and it's a constant theme in my writings. I continuously ask myself: If I could start again, what would I do? Most of my characters, in some way or another, reinvent themselves. But none had done so as completely as my grandfather, until Rita Ortiz came along.
I once read that there is nothing more important to a person than their own name and identity. That people who've been tortured, starved, abandoned, may forget all else, but not their names.
And yet, my grandfather voluntarily changed his name, and not to anything remotely resembling the original, like so many immigrants have done throughout history, but to something completely disconnected to his past identity.
I never questioned any of this growing up, and with my father dead, all direct connection to my grandfather is long lost. But now I wonder: What made my grandfather leave his home alone and embark on what was certainly a life-threatening journey at such a young age? What did he leave behind? Did he run away or did his mother—sensing his potential—gently push him out, giving him his blessing before he left the family home for the last time?
I also wonder if my grandfather was planning to open the door to his past and life thwarted him, felling him with lung cancer when my father was only 11 years old.
I thought of my grandfather when Rita Ortiz got her second chance in The Second Time We Met; when she realized she could choose never to return home. I envisioned him when Rita Ortiz stood in the library, selecting a new name for her new self, and I wonder if he also pondered the meaning of each name at his disposal.
And I think he must have smiled when he signed the official document, the one that said, "You are really no longer that person you left behind so long ago. Now you really are who you were meant be."
For more about Leila Cobo, click here.