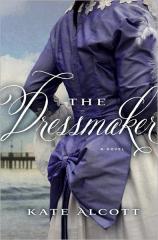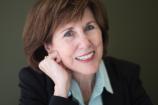 Kate Alcott was a reporter covering politics in Washington D.C., where she and her husband still live. Here, she talks about her inspiration to write The Dressmaker, her new novel.
I've been mesmerized for years by the tragedy of the Titanic. And I'm not alone. This year marks the 100th anniversary of its sinking, and major commemorations are in the works, including an ABC television mini-series set to air on April 14-15. A ship will sail from New York to the location where the Titanic went down and wreaths will be placed on the sea in memory of all who lost their lives. Many other commemorations are scheduled – dinners, concerts and exhibits. The world has not forgotten the Titanic.
I wondered, when I started The Dressmaker, could I tell a fresh story --- giving readers a new perspective on the tragedy? If not, I shouldn't even try.
Yet one question kept hammering in my head: what happened after the sinking? Some 1,500 people died on that ship, but over 700 survived. For them, there were the painful U.S. Senate hearings to endure. And surely many of them questioned themselves. Had they done the right thing in those last frightful moments? Could they live with their choices? Who was brave, who was cowardly? Where, ultimately, did the blame for such a disaster lie?
Yes, the aftermath. That's what I wanted to explore.
First I had to pluck from the ranks of all these once-living people someone whose story could frame my book. I read everything I could about the Titanic, including the transcripts of the hearings, both those held in the United States and those held in Britain. That's when these people truly came alive for me. And that's when one woman began to fascinate me --- a woman who was then the most famous designer of couture in the world: Lady Lucile Duff Gordon.
The more I read, the more I wondered about her. I explored books about her life, poured over photographs and drawings of the gorgeous gowns she designed for wealthy and celebrated women on two continents. Her style was imperious and her talent remarkable. But the shadows around her controversial behavior after the ship sank quickly clouded her reputation. How ironic that now, one hundred years later, so few even know her name or who she was. She would be the fulcrum around which my tale would revolve.
Yet who would provide the heart? I found the answer quickly; all I had to do was remember a vivid story told to me in childhood.
Years ago, a young restive woman yearning to break out of her life as a servant caught a glimpse of herself in the mirror of her employer's home and was appalled at what she saw. There she was, arms filled with laundry, staring at herself in her uniform and starched housemaid cap. She took the cap, threw it at the mirror and marched down to the docks that day to book passage to America.
Does this sound like Tess Collins, my heroine in The Dressmaker? Yes, but it isn't.
That young servant girl was my mother. I was enthralled when she first told me her story. I could only try to imagine what a mixture of fear and courage it had taken to forsake everything she knew in order to reach for a new and better life. She gave me a template for building a character, one who would survive a terrible tragedy and build her life from there.
And then I met Pinky Wade, a character who tumbled onto the page in one take. Not many women were journalists in 1912, but young women already had a role model, and that was Nellie Bly, the intrepid reporter who became famous for retracing the path of Jules Vernes' Around the World in Eighty Days. Pinky is cut from that cloth. Through her eyes, I could see and feel the almost hysterical press coverage that followed the Titanic sinking. And because I have been a reporter myself, I know how it feels to muster bravado and argue my way into places I'm not supposed to be, and to write furiously to make newspaper deadlines. Pinky and I were friends immediately.
These were the three women around whom I built The Dressmaker, with each one giving insight into what happened after the Titanic went down. In this time of commemoration, my hope is that readers will be drawn by my story to explore and imagine a whole side of the Titanic story that is rarely told.