Susan Henderson is a two-time Pushcart Prize nominee and the founder of the literary blog LitPark. Her debut novel UP FROM THE BLUE is about a women who is forced to reach out to her estranged father for help when she goes into labor early and her husband is away. Suddenly, she must face painful memories she ran from.
I've just returned from a book club visit, and I'm reminded once again that the most interesting people to spend time with are avid readers.
I met this particular group at a retirement community. Sometimes I meet at libraries, restaurants, places of worship, or private homes. I've met with groups of teachers, writers, counselors, teenagers, tennis players, and nuns. But here is the common thread: Book clubs are not for sissies.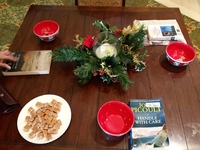 Whether I sit in with a group that's feisty, tipsy, or shy, these are women (where are the men?) who like to walk in others' shoes, travel outside the familiar, peer into the dark with eyes wide open. I'm always amazed at the honesty and fearlessness of the discussions—not only of the themes and issues presented in my book (military life, suicide, racism, parenting) but their own private struggles. Books tap old wounds, press buttons, give rise to memories, open hearts. Because we do not simply read books. We bring our temperaments and life experiences to these stories so that we become a part of the book and the book becomes a part of us.
Some of my favorite book club moments:
· Convincing a group of teenagers to write down the names of my favorite horror stories: Antigone, Oedipus, and Medea.
· Hearing the f-word come out of a grandmother's mouth when describing one of my characters.
· Realizing a group member has her own story to write.
For book club members who feel it's an honor to have an author visit, I'll just say that the reverse is true for me. I drive home remembering their names, thinking of our tears and laughter, and wanting to channel their wisdom as I work on the next book.


Pictured above: The group I met with today had an interesting way of choosing their next book. One member was designated to bring in three choices. She then set the books out on a table with a bowl next to each one. You vote by dropping a caramel candy into the bowl beside the book of your choice. The winner: TO KILL A MOCKINGBIRD!