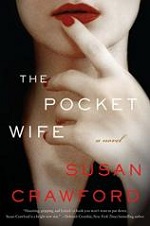 Following up on a contest that we ran in March, we reached out to several groups that had read
THE POCKET WIFE
by
Susan Crawford
and won a visit from the author. THE POCKET WIFE is a psychological thriller in which Dana Catrell, a woman suffering from bipolar disorder, is shocked to find that her neighbor has been brutally murdered and is even more stricken when she realizes that she was the last to see her neighbor alive. To make matters worse, there are some big gaps in her memory, which begs the question: Could she have done it or is there still a murderer out there?
Before getting into their meeting with the author, we asked the groups to share a little bit about themselves. We always want to know about your groups and what you're discussing, so we were happy to hear back from our winners. Patricia from McDonough, GA got back to us, saying that her group consists of eight members, ages 45 to 70, who meet every six weeks. "The way we do it," Patricia told us, "is the person who picks the book also picks where we will meet. It can be at someone's home or a restaurant." Iris and her group, "Well Read in Black and White," from Dunwoody, GA have a similar set-up, with 10 members, ages 40 to 65, meeting every third Friday of each month (except in December) and often meeting in restaurants --- it seems food is an integral part of any good book club!

When asked what books her book group typically reads, Iris mentioned that her group reads anything from literary fiction, like THE INVENTION OF WINGS by Sue Monk Kidd, to thrillers, such as THE GIRL ON THE TRAIN by Paula Hawkins. Patricia's group also reads a range of books and have been fortunate enough to have met authors (such as Mary Kay Andrews) before, but they were particularly excited about this visit because it was their first time meeting an author of a psychological thriller. Before meeting with an author, Iris suggests, "learn[ing] a little about the author before your meeting. Have prepared questions for discussion. If there are questions with the book or in a book guide you may want to have a few of your own."

The groups met with Susan Crawford over the spring and summer, and we were excited to hear their feedback about their visit with her. Iris told us that her group started "with questions and answers about her processes and inspirations for the book" and Patricia's group, too, "enjoyed talking to Susan about how she comes up with her story ideas, and if she thinks about the characters after the book is finished." Because the book was a psychological thriller, both groups were interested in Susan's process. Iris stressed that her members "were very interested in the how and why of [Susan's] writing" and they greatly enjoyed giving Susan their own feedback about when each of them realized "who done it" in their reading of the book. They were also able to get some insider knowledge about small aspects of Susan's own life that she wrote into the book, such as "Spot the cat, [the] cell phone in the pocket, and --- not so small --- her friendship with a person suffering with bipolar disease," Iris confides.

Metal illness is a key factor in the book and both groups found their discussion on bipolar disorder with Susan to be thought provoking. Patricia mentioned that it was, to a large degree, because "the main character was bipolar and had had too much to drink" that made it so difficult to know who had commited the murder for most of the book. Iris, too, found Susan's portrayal of mental illness to be an important point of discussion, telling us that the book --- and their talk with Susan --- helped shed light on "a much talked about but perhaps not well understood condition[:] bipolar disorder. By writing through the eyes of Dana, the affected, Susan guided us through the twists and turns of the plot and kept us engaged to the end."

All in all, both groups thoroughly enjoyed meeting with Susan and their lively discussion with her about THE POCKET WIFE. Patricia highly recommends the book to other reading groups, stressing that it was one of their favorites. As Iris puts it, with "good food, good company and a good book," what could go wrong?
Pictured: Susan Crawford and the members of "Well Read in Black and White"