About the Book
About the Book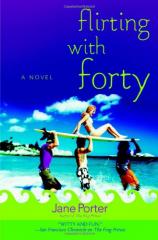 I'm Jackie Laurens and eighteen months ago if you looked at my life on paper, you'd think it was fabulous: gorgeous husband Daniel, twelve years of marriage, two kids, big house. The not-so-good part? I discovered Daniel was having an affair.
Playful and smart, a coming-of-middle age story of a woman not ready to give up on love and life. He got the second home and the Porsche. She got the kids and a broken heart. Now Jackie, post-divorce and heading toward the big four-oh, is on vacation in sunny Hawaii and staring down her upcoming birthday-alone. But not for long. She's soon falling for Kai, her gorgeous, much younger surf instructor, and the wild passionate fling they have becomes the biggest surprise of Jackie's life.
Back home in Seattle, Jackie has to struggle with single parenthood…and memories of Kai. He hasn't forgotten her. Yet thousands of miles of ocean-not to mention an age difference that feels even wider-separate them. And, of course, her friends disapprove. When a choice must be made, can she, will she risk everything for her chance at happiness?
Flirting with Forty
by Jane Porter
Publication Date: July 13, 2006
Paperback: 356 pages
Publisher: 5 Spot
ISBN-10: 0446697265
ISBN-13: 9780446697262