About the Book
About the Book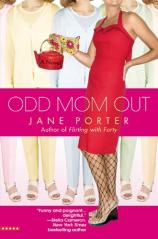 DOES SHE REALLY WANT TO BE A MEMBER OF THIS MOMMY CLUB?
Advertising executive Marta Zinsser is no poster child for her wealthy Seattle suburb-and nothing could please her more. This former New Yorker wears combat boots, not Manolos, and drives a righteous Harley hog instead of a Mercedes SUV. Now she's launching her own agency in this land of the Microsoft elite, even though her ten-year-old daughter wishes she'd put on a sweater set and just be normal.
Can this ex-urbanite remain uniquely herself without alienating the inner circle of smug, cookie-cutter executive wives? And when push comes to shove, can she stop being the proud odd mom out and take a chance at something frighteningly-and tantalizingly-new?
Odd Mom Out
by Jane Porter
Publication Date: September 27, 2007
Genres: Fiction
Paperback: 410 pages
Publisher: 5 Spot
ISBN-10: 0446699233
ISBN-13: 9780446699235