About the Book
About the Book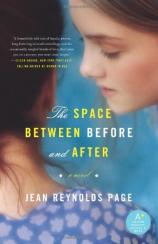 Forty-two and divorced, Holli Templeton has begun to realize the pleasures of owning her life for the first time. But when she learns that her son Conner has unexpectedly fled college and moved to Texas with his troubled girlfriend, Kilian, she must once again put her family's needs before her own. As if that's not enough, Holli notices signs of serious decline in the beloved Texas grandmother who raised her. She has no choice but to leave the comfort zone of life in New York and return to her hometown in Texas to care for the people she loves.
In the tight space between these two generations, Holli's journey back to Texas stirs unresolved hurts from her childhood. But something else happens in this uneasy homecoming. Comfort arrives in the ethereal presence of the mother long lost to her, and Holli is surprised to find that as she struggles to help her son and grandmother, the wounds of her own past begin to heal. The space between before and after – easily the most challenging place she has ever known – begins to reveal an unanticipated hope for what the future might hold.
Click here to learn more about the soundtrack to The Space Before and After.
The Space Between Before and After
by Jean Reynolds Page
Publication Date: May 13, 2008
Paperback: 390 pages
Publisher: Avon A
ISBN-10: 0061452181
ISBN-13: 9780061452185