About the Book
About the Book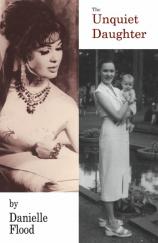 THE UNQUIET DAUGHTER, an Amazon bestseller, has been acclaimed by Publishers Weekly as a "heartbreaking…gripping…powerful" tale of family and romantic love.
I have been looking for home in my house again through these windows that are my eyes. Home comes and goes, like thoughts, like the clouds drifting over our slightly wild blue garden. It doesn't make sense, for I am loved by my husband and our children who scamper in and out during the day. I am loved by the dog even, who likes to listen with me to opera in the evening. Still, the feeling that home is somewhere in general and nowhere in particular returns, quite predictably, when I remember my mother.
Kept from much of her family's identity for decades, a New York journalist, born of the wartime love triangle that inspired the one in Graham Greene's THE QUIET AMERICAN, searches for her father after barely surviving a youth of privilege, estrangement and cruelty.
As she yearns for her father's love and presence, Danielle's beautiful French and Vietnamese mother leaves her in burlesque house dressing rooms in the American Midwest, in convent schools in Long Island and Dublin, and with strangers in New York City. Meanwhile, she lies to Danielle about their past for decades in this sometime-humorous near-tragic mystery and love story between a daughter and a mother and more.
In the end, we learn if Flood's journey through the truth of what happened between her parents in early 1950's Saigon satisfies her life-long quest for who she is.