After 28 novels, a staggering feat for any established writer, Luanne Rice has returned with The Silver Boat, an emotional portrait of three sisters who revisit their Martha's Vineyard home, full of family ghosts and memories, one last time. In this interview, Rice discusses the real-life inspiration for her book, and how she too had to confront her family beach cottage after her mother's death. She also talks about her favorite poets, the seed for her next work of fiction, and how writing has been her lifelong solution to figuring things out.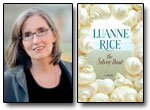 Question: You made your writing debut in 1985 with Angels All Over Town. The Silver Boat is your 29th novel. How --- if at all --- has your writing process changed over time? Have the Internet and other technological advances affected your writing experience?

Luanne Rice: In many ways my process has changed very little. My novels always begin with a character. I wait for her to tell me who she is; often she inhabits my dreams. Once I know her name, I'm ready to start writing. Although I now work on a MacBookPro 15, I still like to write the earliest scenes on a yellow legal pad with a fountain pen. The Internet makes research go faster, but something is lost. It's too easy to search for information, take what I need, and move on. I prefer to do research from books, getting lost in the background and immersed in the realm of whatever I'm trying to learn.

Q: The importance of family is a recurring theme in your novels. How did your own upbringing influence your decision to become a writer?

LR: My family was loving but complicated. Our house was filled with secrets and bass notes. As a child I was a detective, listening at walls and going through drawers, looking for answers to what was wrong. My writing has been my lifelong solution to figuring things out, finding the love I know was there, learning everything I can about the way families work, ways of loving and trying to be happy.

Q: "Was that the inspiration for Dulse's latest adventure? Dar wasn't sure. She only knew that her ideas came from deep down, experiences and emotions of her own" (p. 282). Part of what makes your novels so heartfelt is that each of them comes from a deeply personal place. What was your inspiration for The Silver Boat?

LR: The answer has three parts:

a) Like the McCarthy sisters, my sisters and I had to face what to do with our beloved family beach cottage after our mother died. It was an immense challenge. The house contained so many ghosts and memories. My grandparents had built it; no other family had ever occupied it. It sits on a granite hill, and the top step still has three pennies placed there by my grandfather in 1938, the year it was built. We put it on the market for ten seconds --- selling felt unthinkable. My sisters were very generous and let me buy them out. I still want it to be the family house.

b) My father had a way of disappearing. Not forever, like Michael McCarthy, but frequently, and without explanation. I've been writing my way into that situation my whole life.

c) The silver boat actually exists.

Q: Harrison is such a glorious character. Is he based on someone you've known?

LR: Yes, but like the character, he would want to remain a mystery.

Q: In your blog, you have a section called "Advice to Young Writers." What is the one bit of advice that you consider most important to a writer just starting out?

LR: Write every day; don't worry what your parents, true love, or teacher will think; go to the library, find the shelf where your book would be, and imagine it right there.

Q: In an alternate universe, is Luanne Rice still a novelist, or is there a "road untaken" that the other Luanne has followed?

LR: One of the best parts of being a writer is that I get to take all those roads; for months on end I've lived the lives of an oceanographer, gardener, sculptor, anthropologist, veterinarian, actor, beachcomber, researcher at the Louvre, and many more.

Q: Poetry always has a prominent supporting role in your novels. Who are your favorite poets, and why?

LR: W. B. Yeats for the language, beauty, mysticism; Eavan Boland for her strength and evocation of Dublin; Mary Oliver for her connection to nature and the sea; Jim Harrison and Ted Kooser for their friendship; my sister Maureen Rice Onorato because her work is tender and powerful.

Q: Dulse is another name for a type of seaweed also called "Irish moss." Why did you give her this name?

LR: Dulse's element is water. She is a fluid character, flowing in and out of fantasy and dreams. She leads Dar deep into her own subconscious, allowing her to bring forth things buried inside, answers she didn't know she had.

I chose the name because it's beautiful to say. Also in honor of the seaweed that fills tidal pools, hides sea creatures, smells like life and death, and because I love its Latin name, Chondrus crispus.

Also because the short story "Dulse," by Alice Munro, affected me greatly when I first read it in The New Yorker.

Q: You describe Dulse and her world so vividly that the reader can really picture the pages. Is there a graphic artist whose work inspired Dar's?

LR: My niece Amelia Onorato inspired me and helped me research the character. She is a writer and an artist, getting her master's degree in cartoon studies, working on her first graphic novel.

Q: Have you found the seed of your next novel yet? If so, could you share a bit of the story?

LR: It starts with a crime, continues with an unexpected visitor, threads of estrangement, lost love, and the kind of deep love a person can have for someone she's never even met.