The Book Group Spotlight Feature is designed to share a selected book group with our readers. The spotlight may focus on a group's discussion of a book or be with a group that we feel is particularly interesting.

Our latest Book Group Spotlight Feature is an interview with Jeff Potter of The Great Apes Reading Group. When Jeff contacted us, we knew that his group would be a great group to feature in the Book Group Spotlight. An all-male group, The Great Apes began meeting in Fort Collins, Colorado in 1994. It has since expanded to Illinois, as Jeff moved and recruited another member in his new state. All, but one of the books the 11-member group has read have been written by men, so we asked Jeff and two other members, Doc Martin and Clark Mozer, to answer some questions on how their group works and what it takes to keep a reading group going for 17 years. To read our previous Book Group Spotlight interviews please click here.

If you would like your group to be interviewed for a spotlight feature like this, please contact Maureen Linehan at Maureen@bookreporter.com with your name, the name of your group, some background on your group, and the title that you discussed. From there, we will select some groups to feature.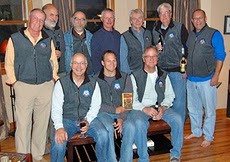 Q: Where is your group located, where do you meet and how often do you meet?
A:
Nine Great Apes live in and around Fort Collins, Colorado, one lives in Aurora, Illinois --- I moved from Fort Collins in June 1999 --- and one is in West Chicago, Illinois --- a friend I introduced to the Apes in December 2004. We generally meet monthly or every six weeks at restaurants, brewpubs, members' homes or vacation homes, and even once on a camping trip for our discussion of Cormac McCarthy's,
Cities of the Plain
.
Q: How did it come about that you created an all-male group? Was the decision to have all men in your group intentional?
A:
In 1994, a few male teaching colleagues and I were kicking around the idea of starting a book discussion group, maybe in response to hearing the women in our department talking about their book group. So we picked a title, Ted Kerasote's
Blood Ties
, a date, and a meeting place, Cooper Smith's Pub, and let seven or eight guys know. They read the book and arrived to discuss it at the appointed time and place, and The Great Apes were born. I think it was a conscious decision to invite only men and read only male authors. We all read and appreciate works by female authors, just not for Great Apes' picks and discussions.
Q: Who came up with the name, The Great Apes Reading Group? Is there any significance to the name?
A:
I think the moniker "Great Apes" was a group decision that was first used self-referentially in jest then simply stuck. In reading
Tarzan of the Apes
in April 1995, we were surprised and amused to learn that young Tarzan taught himself English by reading a copy of John Milton's
Paradise Lost
. We could relate to that and our name was born!
Q: How do you select the books you are going to read?
A:
Over the years, we've used several methods but I think the one we've used the longest and most successfully is having one member per month choose his title in rotation and announce it via our blog or at a meeting. For the milestone books, we kick around a few titles as no one wants to shoulder the pressure of picking numbers' 100, 150 or 200!
Q: All of the books your group has read have been written by male authors, except for one. What book did you read that was written by a female author?
A:
The short story,
The Man Who Shot Liberty Valence
by Dorothy Johnson was in the anthology,
Gunfight
, and when the Apes re-convened after a year-plus hiatus (June 2001 to October 2002) we read
The Last American Man
by Elizabeth Gilbert.
Q: Why did you choose to read this book? Did the gender of the author factor into your discussion at all?
A:
Since Dorothy Johnson's story was in James Work's western literature anthology, it kind of slipped through as a selection, but Elizabeth Gilbert's book was selected largely on its title and the fact that some female colleagues had read it and wanted to get the all-male Apes take on it. I am sure Gilbert's gender was a factor and talking point, but I can't remember the specifics. I do recall that our female colleagues liked Eustace Conway more than the Apes did, and that surprised all of us!
Q: It's often said that it is harder to reach male readers. As an all-male reading group, do you agree or disagree with this commonly held belief? Please explain.
A:
I cannot speak for all Apes, but I personally disagree that it's harder to reach male readers. There are so many books out there to read and we all bring so many different life experiences to the table that even though a particular book may not resonate with each Ape, we can express what we gained from the book, how successfully, or not, the author communicated his insights, or how successfully he told his story. We have
never
been at a loss for books to read and points to make. Each title has generated a solid discussion.
Q: Why do you think that men do not form book clubs?
A:
I honestly don't know. One fellow Ape believes that men, as a group, generally, have not been invited, encouraged nor recognized to express themselves outside of sports, politics or religion, with very few exceptions. Maybe men just don't reach out to find other readers but rather read in isolation and wait to be reached out to. Maybe there are more all-male reading groups in existence than we know. We were all avid life-long readers before forming The Apes and didn't know how hungry we were to share our readings and insights with other male readers. Maybe we just lucked out and all found each other right when we were looking for the intellectual outlet The Apes have provided for many years.
Q: If you could suggest one book for men to read, what would you suggest?
A:
As I look at our reading list, I cannot select one "must read." I'm not sure any Ape could or would. I do know that the times we've talked about our personal favorites or personal top ten, a few titles keep popping up.
Q: Based on the books your group has read, what book was your favorite?
A:
T.C. Boyle's
Water Music
, Alfred Lansing's
Endurance
, Stephen Ambrose's
Undaunted Courage
, all the Cormac McCarthy titles, Wallace Stegner's
Angle of Repose
, and John Steinbeck's
East of Eden
are definite group favorites. Each Ape has a few personal favorites that don't necessarily make the group's top ten. You can visit our blog,
www.greatapesbookgroup.blogspot.com
for our complete reading list.
Q: Are there any books that are considered female-oriented that your group has read and enjoyed? If so, what was it?
A:
No, our reading list leans heavily, maybe even exclusively, toward male interests, even though there are plenty of books on our list that women would enjoy reading and discussing. It's a very diverse list that reflects the interests and personalities of The Apes.
Q: Your group began meeting in 1994. Has your group changed at all? Have you incorporated new members, or a different organizational structure?
A:
Members have occasionally come by another Ape's invitation only and gone, but the core shrewdness remains. Some guests or short-time attendees didn't want to read and/or discuss as much as they thought they did. Some went away with hurt feelings over their pick's tepid (or worse) reception. Some didn't like The Apes, but our pattern remains constant --- pick a book, a date, and a place. Then, read, eat, drink, discuss, and repeat ten or eleven times a year!
Q: Has the book selection process and discussions changed at all?
A:
There have been very few changes over the years. The discussions have improved since we have so many books to compare choices with and we are so comfortable with each other that no one pulls any punches, especially when panning a fellow Apes pick. Our skins are all tougher, our minds richer, and our friendships deeper.
Q: As a group that has been meeting for 17 years, what suggestions do you have for other reading groups on how to keep the discussions interesting?
A:
Our discussions never fail to be interesting; our personalities and shared history ensure that, but one thing I think we all remember at the end of a meeting is that it's just a book, like it, hate it, but there will be another one next month.
The Apes are unique, certainly in my experience. We rarely agree on all things, except that none of us are so close-minded to disrespect or discredit the expansion of our knowledge. I'm unsure whether we would all classify ourselves as 'best friends,' but we definitely respect and enjoy each other for who we are.
The Apes are fortunate to include several excellent chefs, so we always eat very well. A selection of microbrews, a gourmet meal, and a wee dram of single malt can always carry the evening, even when the month's pick cannot.
For variety, we enjoy meeting in Breckenridge, Colorado over Martin Luther King Jr. weekend, and in Chicago for a long weekend in the fall.
Three times we have had the author join us when we discussed his work. To an author, each was flattered and honored to come share the hows and whys of writing his book.
To mark our milestone reads we did etched coffee mugs at 50, long sleeved t-shirts for 125, and a fleece vest for 150. Occasionally, we've received a little local publicity and the patch on the vest has sparked many conversations that usually begin with, "Wow, did you really read one hundred and fifty books?"
Q: What are you reading this month and why did you select it?
A:
For my April pick, I chose John Cheever's
Falconer
. I'd been looking at the copy on my shelf for years and decided to finally read it. I like classic American fiction and my picks tend to reflect that preference. Like in many book groups, we've all read and enjoyed books we may not have found on our own.