Get Listening with Your Book Group!: A Very Special Contest
Feature and Contest
Get Listening with Your Book Group!: A Very Special Contest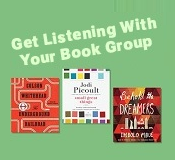 BEHOLD THE DREAMERS
Read by Prentice Onayemi
Jende Jonga, a Cameroonian immigrant living in Harlem, has come to the United States to provide a better life for himself, his wife, Neni, and their six-year-old son. In the fall of 2007, Jende can hardly believe his luck when he lands a job as a chauffeur for Clark Edwards, a senior executive at Lehman Brothers. However, the world of great power and privilege conceals troubling secrets, and soon Jende and Neni notice cracks in their employers' façades. When the financial world is rocked by the collapse of Lehman Brothers, the Jongas are desperate to keep Jende's job, even as their marriage threatens to fall apart. As all four lives are dramatically upended, Jende and Neni are forced to make an impossible choice.
SMALL GREAT THINGS
Read by Audra McDonald, with Cassandra Campbell and Ari Fliakos
Ruth Jefferson is a labor and delivery nurse at a Connecticut hospital with more than 20 years' experience. During her shift, Ruth begins a routine checkup on a newborn, only to be told a few minutes later that she's been reassigned to another patient. The parents are white supremacists and don't want Ruth, who is African American, to touch their child. The hospital complies with their request, but the next day, the baby goes into cardiac distress while Ruth is alone in the nursery. Does she obey orders, or does she intervene? Ruth hesitates before performing CPR and, as a result, is charged with a serious crime.
THE UNDERGROUND RAILROAD
Read by Bahni Turpin
Cora is a slave on a cotton plantation in Georgia. An outcast even among her fellow Africans, she is coming into womanhood --- where even greater pain awaits. When Caesar, a recent arrival from Virginia, tells her about the Underground Railroad, they decide to take a terrifying risk and escape. Like the protagonist of GULLIVER'S TRAVELS, Cora encounters different worlds at each stage of her journey --- hers is an odyssey through time as well as space. As Whitehead brilliantly re-creates the unique terrors for black people in the pre-Civil War era, his narrative seamlessly weaves the saga of America from the brutal importation of Africans to the unfulfilled promises of the present day.
- Click here to read more about the books and enter the contest.
- Click here to read more on "Why Listen to Audio for Your Book Group Discussion" from Penguin Random House.
- Click here to visit the Penguin Random House Audio website to see more suggestions for listening and how to discuss an audiobook with your book group.
Winners
BEHOLD THE DREAMERS
Cathy and her group from Rockville, MD
Kristen and her group from Pearland, TX
Valerie and her group from Tempe, AZ
SMALL GREAT THINGS
Karen and her group from Pisgah Forest, NC
Kelly and her group from Hobart, WI
Susie and her group from New Rockford, ND
THE UNDERGROUND RAILROAD
Ellen and her group from Newark, DE
Samantha and her group from Gold River, CA
Sue and her group from Highlands Ranch, CO