About the Book
About the Book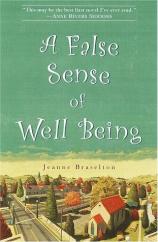 At thirty-eight, Jessie Maddox subscribes to House Beautiful, Southern Living, even Psychology Today. She has a comfortable life in Glenville, Georgia, with Turner, the most reliable, responsible husband in the world. But after the storybook romance, "happily ever after" never came. Now the housewife who once wanted to be Martha Stewart before there was a Martha Stewart is left to wonder: Where did the marriage go wrong? Why can't she stop picturing herself as the perfect grieving widow?
As Jessie dives headlong into her midlife crisis, she is aided and abetted by a colorful cast of characters in the true Southern tradition: her best friend and next door neighbor Donna, who is having a wild adulterous affair with a younger man; Wanda McNab, the sweater-knitting, cookie-baking grandmother who is charged with killing her abusive husband. Then there's Jessie's eccentric family. Her younger sister Ellen, born to be a guest on Jerry Springer, has taken her seven-year-old son and squawking pet birds and left her husband "for good this time" . . . while their mother crosses the dirty words out of library books and alerts everyone to the wonderful bargains at Winn-Dixie, often at the same time. And then there's the stuffed green headless duck . . .
When a trip home to the small town of her childhood raises more questions than it answers, Jessie is forced to face the startling truth head-on–and confront the tragedy that has shadowed her heart and shaken her faith in love . . . and the future.
From a brilliant new voice in fiction, here is a darkly comic novel full of revelation and insight. The danger of secrets and the power of confession . . . The pull of family, no matter how crazy. . . The fate of wedlock when one can't find the key . . . Jeanne Braselton weaves these potent themes into a funny, poignant, utterly engaging story of a woman at the crossroads–and the unforgettable journey she must take to get back home.
A False Sense of Well Being
by Jeanne Breaselton
Publication Date: October 2, 2001
Genres: Fiction
Hardcover: 352 pages
Publisher: Ballantine Books
ISBN-10: 034544311X
ISBN-13: 9780345443113