About the Book
About the Book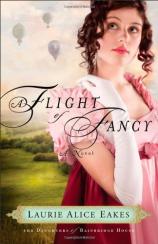 Her head is in the clouds. His feet are planted firmly on the ground. Can love cover the distance?
Cassandra Bainbridge may be a bit of a bluestocking, but when Geoffrey Giles is near, love seems a fine alternative to passion for Greek and the physics of flight. With his dashing good looks and undying devotion to her, the earl of Whittaker sets Cassandra's heart racing with his very presence. It seems his only flaw is his distaste for ballooning, the obsession that consumes so much of her thoughts.
When a terrible accident compels her to end her betrothal, Cassandra heads for the country to recover from both her injuries and her broken heart. With time on her hands and good friends to help her, she pursues her love for ballooning and envisions a future for herself as a daring aeronaut. But when Lord Whittaker slips back into her life, will she have to choose between him and her dream?
A Flight of Fancy: The Daughters of Bainbridge House, Book 2
by Laurie Alice Eakes
Publication Date: October 1, 2012
Paperback: 344 pages
Publisher: Revell
ISBN-10: 080073467X
ISBN-13: 9780800734671