About the Book
About the Book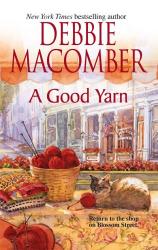 You might have heard about a wonderful little yarn store in downtown Seattle. Debbie Macomber can take you there! Thousands of women discovered it when they read her bestselling novel The Shop on Blossom Street. Whether this is a return visit or your very first, you'll find that A Good Yarn is a place of welcome and warmth. A place where women feel at home. Where they're among friends, old and new.
The first person you'll meet is Lydia Hoffman, who owns the shop. In the year since it opened, A Good Yarn has thrived --- and so has Lydia. A lot of that is due to Brad Goetz. But when Brad's ex-wife reappears, Lydia is suddenly afraid to trust her newfound happiness.
Elise Beaumont, a retired librarian, joins one of Lydia's popular knitting classes. Since losing her life savings, Elise has been living with her daughter, Aurora --- the only positive legacy from her brief marriage to professional gambler Marvin "Maverick" Beaumont. Now she learns that her onetime husband plans to visit and that Aurora wants a relationship with her father, regardless of how Elise feels about him.
Bethanne Hamlin, like Elise, is facing the fallout from a divorce. But her husband, Grant, left her for another woman --- not a pack of cards --- and she's still struggling to reshape her life. She joins the knitting class at her children's urging; it's the first step in her effort to recover a sense of dignity and hope. Then she starts a small business and meets a man with whom she has something surprising in common!
Courtney Pulanski is a depressed and overweight teenager. She's staying with her grandmother, who's trying to help her...help that takes the form of dragging her to seniors' swim sessions --- and to the knitting class at A Good Yarn.
Like so many women, these four find companionship and comfort in each other and in this age-old craft. Who would've thought that knitting socks could change your life?

A Good Yarn
by Debbie Macomber
Publication Date: May 1, 2006
Genres: Fiction
Mass Market Paperback: 400 pages
Publisher: Mira
ISBN-10: 0778322955
ISBN-13: 9780778322955