About the Book
About the Book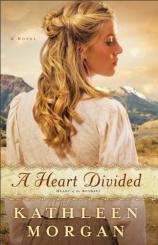 When fate brings them together, they must choose between family ties and love.
The Caldwells and Wainwrights have been feuding for decades. Still, Sarah Caldwell has misgivings when her father pressures her into distracting a ranch hand while he and her brothers rob the Wainwright place. When it becomes clear that hand is actually Cord Wainwright, heir of the Wainwright holdings, Sarah realizes things have gone too far.
As the feud boils over, Cord and Sarah make a most inconvenient discovery --- they just might be falling in love. Can they betray their families to see where this attraction leads? Or will their families betray them?
Against the beautiful and wild backdrop of the Rocky Mountains in 1878 comes this sweeping saga of romance, betrayal, and forgiveness from beloved author Kathleen Morgan.
A Heart Divided: Heart of the Rockies, Book 1
by Kathleen Morgan
Publication Date: May 1, 2011
Genres: Christian, Historical Romance
Paperback: 329 pages
Publisher: Revell
ISBN-10: 0800718844
ISBN-13: 9780800718848