About the Book
About the Book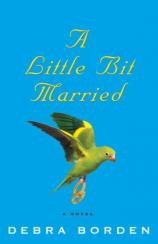 Even before college, Bitsy Lerner had her whole life figured out: marry, have kids, move to the suburbs, and spend heavenly days packing lunches and driving carpools.
At age 43, things have gone exactly as planned. With a solid marriage, two great kids, and a darling house, so what if her husband is vague about his business dealings. Or her overbearing mother-in-law finds novel ways to torture her. And her parents radiate constant disapproval. And her friends are shallow. And her daughter's clothes never cover her navel. And her son spends all his time playing sports. She's living the charmed life she always wanted. Right?
Then, one sunny morning, everything changes. As her husband lies unconscious, an empty bottle of pills on the nightstand, unable to recognize her or the children, Bitsy is forced to answer these questions and more. Why is the mail filled with bank notices and overdue bills? Where are her so-called friends? Why is her son's school principal suddenly so attractive? And for the first time, instead of wondering when things will get back to normal, Bitsy wonders if things were ever normal in the first place.
Come along for the hilarious and poignant ride as Bitsy gets help from the unlikeliest of sources and discovers that all the little "bits" of herself might actually be stronger than she, or anyone, knew.
A Little Bit Married: A Novel
by Debra Borden
Publication Date: April 24, 2007
Paperback: 300 pages
Publisher: Three Rivers Press
ISBN-10: 1400082242
ISBN-13: 9781400082247