About the Book
About the Book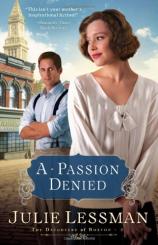 Has she fallen in love with a man who cannot love her back?
Elizabeth O'Connor has been like the little sister John Brady always wanted, sharing his love of literature and his thirst for God. But in the throes of the reckless Roaring Twenties, Lizzie has grown up. Suddenly she wants more from the man who has been her friend since she was a child. When this shy little bookworm blossoms into a beautiful young woman bent on loving John, she discovers that his past won't let him return that love. But Lizzie refuses to give up --- until his shocking secrets push her away.
Can true love survive the betrayal and deceit of a painful past… or will it be shattered like the fairy-tale dreams of a girl in love?
A Passion Denied: Daughters of Boston, Book 3
by Julie Lessman
Publication Date: May 1, 2009
Genres: Christian, Historical Romance
Paperback: 480 pages
Publisher: Revell
ISBN-10: 0800732138
ISBN-13: 9780800732134