About the Book
About the Book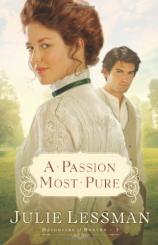 She's found the love of her life.
Unfortunately, he loves her sister.
As World War I rages across the Atlantic in 1916, a smaller war is brewing in Boston. Faith O'Connor finds herself drawn to an Irish rogue who is anything but right for her. Collin McGuire is brash, cocky, and from the wrong side of the tracks, not to mention forbidden by her father. And then there's the small matter that he is secretly courting her younger sister. But when Collin's affections shift, it threatens to tear her proper Boston family apart.
Book 1 of the Daughters of Boston series, A Passion Most Pure will carry your heart from the sophisticated streets of Boston to the green hills of Ireland as men go off to war and women long for their return. Full of passion, romance, rivalry, and betrayal, it will captivate you from the first page.
A Passion Most Pure: Daughters of Boston, Book 1
by Julie Lessman
Publication Date: January 1, 2008
Genres: Christian, Historical Romance
Paperback: 480 pages
Publisher: Revell
ISBN-10: 0800732111
ISBN-13: 9780800732110