Excerpt
Excerpt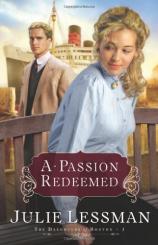 Poor, unsuspecting Mitch. The dear boy --- well, hardly a boy --- doesn't stand a chance.
The thought coaxed a smile to Charity O'Connor's lips as she entered the smoky confines of Duffy's Bar & Grille. The aroma of boxty cakes and sausage bangers sizzling on the griddle reminded her she'd been too nervous to eat. Her escort held the heavy wooden door while she stepped in. The brisk night air collided with the warmth of the cozy pub. Her eyes scanned the room, past the long, serpentine bar crowded with patrons, to the glazed mahogany booths lining the mirrorladen walls. Disappointment squeezed in her stomach like hunger pangs.
He isn't here!
With a lift of her chin, her gaze shifted to the sea of tables occupied by lovely lasses and well-to-do gentlemen who appeared to be enjoying each other more than the food. In a cozy corner, a flute and concertina harmonized, the sound of their lively reel laced with laughter, off-key singing, and the murmur of intimate conversations.
"Charity, if this is too crowded, I know a quiet place we can go ---"
She whirled around. "No, please. I see a table in the back."
Her breathy tone and eager smile produced the desired effect on Rigan Gallagher. His hazel eyes softened. Slacking a hip, he notched his straw boater up with one thumb to reveal an errant strand of dark hair, giving him a boyish look despite his thirty years. His lips pulled into a wicked grin. "Aye, Duffy's it is. But it's fair to warn you, Miss O'Connor, you can't avoid being alone with me forever." He pressed his hand firmly against the small of her back and guided her to the one unoccupied table at the rear of the room.
Every nerve in her body tingled with electricity, but not from Rigan's touch. Charity took the seat he offered and draped her shawl over the back. Her eyes flitted to the booth she had shared with Mitch Dennehy over a year ago. The memory washed over her like the candlelight flickering across the crisp, white tablecloth before her, its flame dancing high and hot.
A tall, gangly waiter approached, and Charity looked up, fixing him with a radiant smile. He must be new, she thought; she hadn't seen him before. A lump the size of a persimmon bobbed in his throat while two pink splotches stained his cheeks. He handed them each a menu. His bony fingers fumbled the parchment sheets. "G'day, miss... sir. What can I get for your pleasure?"
Rigan opened the menu. "I daresay the most important thing would be a liter of your best wine, my good man."
"Yes, sir, very good, sir." The waiter wagged his head and darted away.
Rigan perused his menu, absently reaching across the table to twine Charity's hand in his. "Suddenly I find myself quite ravenous." He looked up, a twinkle lighting his eyes. "But then you always whet my appetite, Miss O'Connor."
Charity bit back a smile and slipped her hand from his. "Rigan, you are incorrigible. Behave... or I shall never accompany you again."
He leaned back in the chair with a low, throaty laugh. His gaze assessed her from head to waist, finally lingering on her mouth. "Oh, I think you will. I've been told I'm irresistible."
A Passion Redeemed: Daughters of Boston, Book 2
by by Julie Lessman