About the Book
About the Book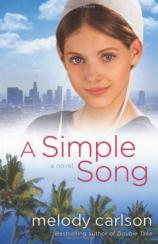 From Amish country to Hollywood, Katrina Yoder is in for the ride of her life!
Katrina Yoder loves to sing, but her strict Amish parents view her singing as vain. Still, Katrina's best friend, Bekka, is convinced Katrina is good enough to try out for "American Star," a televised singing competition that Bekka has been secretly watching. Katrina has a good voice, but really --- try out for a TV show? Her parents would probably disown her!
But when her family faces a crisis, it seems to Katrina that the competition might be the way to get the money needed to cover the emergency expenses.
How will Katrina handle herself as an Amish teenager out in the world? Is she truly good enough to win? Will her parents ever forgive her? And will she be accepted back into her community when it's all over?