About the Book
About the Book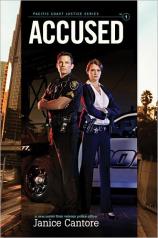 Detective Carly Edwards hates working in juvenile --- where the brass put her after an officer-involved shooting --- and longs to be back on patrol. So when a troubled youth, Londy Atkins, is arrested for the murder of the mayor and Carly is summoned to the crime scene, she's eager for some action. Carly presses Londy for a confession but he swears his innocence, and despite her better judgment, Carly is inclined to believe him. Yet homicide is convinced of his guilt and is determined to convict him.
Carly's ex-husband and fellow police officer, Nick, appears to be on her side. He's determined to show Carly that he's a changed man and win her back, but she isn't convinced he won't betray her again.
As the investigation progresses, Carly suspects a cover-up and strikes out on her own, uncertain whom she can trust. But when danger mounts, she begins to wonder if she made the right choice.