About the Book
About the Book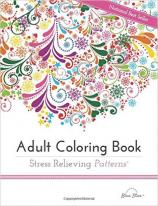 An Amazon #1 National Bestseller!
This adult coloring book features over 45 lovingly detailed patterns.
Designs range in complexity from beginner to expert-level.
Provides hours and hours of stress relief, mindful calm, and fun, creative expression.
Join millions of adults all around the world who are rediscovering the simple relaxation and joy of coloring!
Adult Coloring Book: Stress Relieving Patterns
by Adult Coloring Book Artists
Publication Date: March 28, 2015
Genres: Art, Crafts & Hobbies
Paperback: 104 pages
Publisher: Blue Star Books
ISBN-10: 1941325122
ISBN-13: 9781941325124