About the Book
About the Book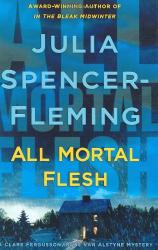 One horrible murder. Two people destined for love or tragedy. Emotions explode in the novel Julia Spencer-Fleming's readers have been clamoring for.
Police Chief Russ Van Alstyne's first encounter with Clare Fergusson was in the hospital emergency room on a freezing December night. A newborn infant had been abandoned on the town's Episcopal church steps. If Russ had known that the church had a new priest, he certainly would never have guessed that it would be a woman. Not a woman like Clare. That night in the hospital was the beginning of an attraction so fierce, so forbidden, that the only thing that could keep them safe from compromising their every belief was distance---but in a small town like Millers Kill, distance is hard to find.
Russ Van Alstyne figures his wife kicking him out of their house is nobody's business but his own. Until a neighbor pays a friendly visit to Linda Van Alstyne ­and finds the woman's body, gruesomely butchered, on the kitchen floor. To the state police, it's an open-and-shut case of a disaffected husband, silencing first his wife, then the murder investigation he controls. To the townspeople, it's proof that the whispered gossip about the police chief and the priest was true. To the powers-that-be in the church hierarchy, it's a chance to control their wayward cleric once and for all.
Obsession. Lies. Nothing is as it seems in Millers Kill, where betrayal twists old friendships and evil waits inside quaint white clapboard farmhouses.