About the Book
About the Book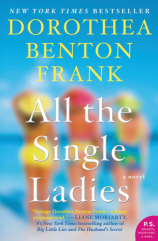 The perennial New York Times bestselling author returns with an emotionally resonant novel that illuminates the power of friendship in women's lives, and is filled with her trademark wit, poignant and timely themes, sassy, flesh-and-blood characters, and the steamy Southern atmosphere and beauty of her beloved Carolina Lowcountry.
Few writers capture the complexities, pain and joy of relationships --- between friends, family members, husbands and wives, or lovers --- as beloved New York Times bestselling author Dorothea Benton Frank. In this charming, evocative, soul-touching novel, she once again takes us deep into the heart of the magical Lowcountry, where three amazing middle-aged women are bonded by another amazing woman's death.
Through their shared loss they forge a deep friendship, asking critical questions. Who was their friend and what did her life mean? Are they living the lives they imagined for themselves? Will they ever be able to afford to retire? How will they maximize their happiness? Security? Health? And, ultimately, their own legacies?
A plan is conceived and unfurls with each turn of the tide during one sweltering summer on the Isle of Palms. Without ever fully realizing how close they were to the edge, they finally triumph amid laughter and maybe even newfound love.