About the Book
About the Book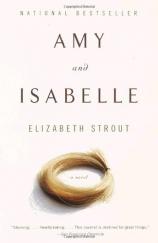 The story of a single mother and her teenage daughter during one fateful year, Amy and Isabelle illuminates the complexities that lie at the heart of the first, and most intimate, relationship in our lives. The questions, discussion topics, and suggested reading list that follow are intended to enhance your reading group's exploration of the ties that bind mother and daughter, and the secrets--about the past and present, about love and sexuality--that simmer beneath the surface.
In the small New England town of Shirley Falls, the arrival of Isabelle Goodrow and her infant daughter, Amy, stirs a bit of curiosity. Declaring she is a widow simply in search of a place to earn a living, Isabelle is accepted--if not embraced--by her neighbors. She works hard at her job at the mill, eventually rising to become secretary to the boss, Avery Clark. She attends church regularly and cares for her daughter conscientiously. Now sixteen, Amy is shy and quiet, drawing the passing attention of others only because of her long, lush hair. But things are different with Mr. Robertson, her new math teacher. He seems to see something special in Amy, and their intimate after-school conversations fill a need Amy barely knew existed. Step by tentative step, Amy awakens to love and physical pleasure--and, succumbing to Mr. Robertson's persuasive charms, she is swept across the line from childhood fantasy to adult passion. Their transgression, discovered by Avery Clark, marks a turning point in the lives of both Amy and Isabelle, an unexpected and dangerous crossroad each must navigate on her own.
Set against the vividly evoked background of Shirley Falls and the large and small dramas that unfold during the year--a teenage pregnancy, a UFO sighting, a missing child, the marital and medical problems of Isabelle's co-workers--Amy and Isabelle portrays the coming of age not only of a teenage girl experiencing love and betrayal for the first time, but of a woman who, in pursuit of a respectable life, has denied her deepest emotions and longings.
Amy and Isabelle
by Elizabeth Strout
Publication Date: February 1, 2000
Genres: Fiction
Paperback: 303 pages
Publisher: Vintage
ISBN-10: 0375705198
ISBN-13: 9780375705199