Excerpt
Excerpt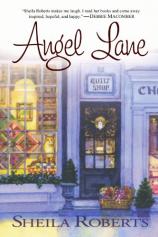 Here are some recipes from the Angel Lane that you may like to pair with your book club discussion:
Chocolate Mint Pie
Single baked pie crust (you can use a prepared crust or make from scratch) or prepared chocolate crumb crust
-1 cup butter
-2 cups powdered sugar
-4 ounces (squares) unsweetened chocolate, melted
-4 eggs
-3/4 teaspoon peppermint extract
-2 teaspoons vanilla extract
Using mixer, cream butter and sugar together. Add melted chocolate and blend well. Mix in eggs, one at a time, then flavorings. Pour mixture into shell and freeze until solid. Can be served with whipped cream, chocolate shavings, peppermint candy, or coconut.
Serves 8.
Note: You can actually serve more since this pie is so rich that a very small serving goes a very long way.
Pumpkin Cookies
Cookie
-1⁄2 cup butter
-1⁄2 cup shortening
-1 cup sugar
-2 cups fl our
-1 teaspoon baking soda
-1⁄2 teaspoon salt
-1 teaspoon cinnamon
-1 cup canned pumpkin
-1 egg
-1 cup raisins
-1⁄2 cup chopped walnuts or pecans
Frosting
-3 tablespoons butter
-1 tablespoon cream cheese, room temperature
-4 teaspoons milk
-1⁄2 cup brown sugar, packed
-1 cup powdered sugar
-3⁄4 teaspoon vanilla
Cream shortening, butter, and pumpkin in mixing bowl; blend in egg. Sift together dry ingredients and blend into pumpkin mixture. Fold in raisins and nuts. Drop by spoonfuls (Sarah uses a regular dinner spoon) onto an ungreased cookie sheet. Bake at 350° for 15 minutes.
Combine butter, milk, and brown sugar in a saucepan. Cook over low heat, stirring constantly, until dissolved. Remove from burner and add cream cheese. Stir until smooth. Add powdered sugar and vanilla. Spread over warm cookies. Let dry completely before storing.
Makes about 3 dozen.
Angel Lane
by by Sheila Roberts
paperback: 352 pages
Publisher: St. Martin's Griffin
ISBN-10: 0312384823
ISBN-13: 9780312384821