About the Book
About the Book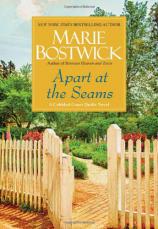 New York Times bestselling author Marie Bostwick welcomes readers back to picturesque New Bern, Connecticut --- a perfect place for a woman whose marriage is in turmoil to discover a new pattern for living.
Twice in her life, college counselor Gayla Oliver fell in love at first sight. The first time was with Brian --- a lean, longhaired, British bass player. Marriage followed quickly, then twins, and gradually their bohemian lifestyle gave way to busy careers in New York. Gayla's second love affair is with New Bern, Connecticut. Like Brian, the laid back town is charming without trying too hard. It's the ideal place to buy a second home and reignite the spark in their 26-year marriage. Not that Gayla is worried. At least, not until she finds a discarded memo in which Brian admits to a past affair and suggests an amicable divorce.
Devastated, Gayla flees to New Bern. Though Brian insists he's since recommitted to his family, Gayla's feelings of betrayal may go too deep for forgiveness. Besides, her solo sabbatical is a chance to explore the creative impulses she sidelined long ago --- quilting, gardening, and striking up new friendships with the women of the Cobbled Court circle --- particularly Ivy, a single mother confronting fresh starts and past hurts of her own. With all of their support, Gayla just might find the courage to look ahead, decide which fragments of her old life she wants to keep, which are beyond repair --- and how to knot the fraying ends until a bold new design reveals itself.
Apart at the Seams: A Cobbled Court Quilts Novel
by Marie Bostwick
Publication Date: April 29, 2014
Genres: Fiction, Women's Fiction
Paperback: 336 pages
Publisher: Kensington
ISBN-10: 0758269307
ISBN-13: 9780758269300