About the Book
About the Book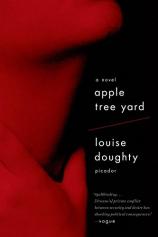 An intelligent, erotically charged thriller with deep moral implications.
Yvonne Carmichael, a renowned geneticist, public authority, and happily married mother of two, sits in the witness box. The charge is murder. Across the courtroom, not meeting her eye, sits her alleged accomplice. He wears the beautiful pin-striped suit he wore on their first meeting in the Houses of Parliament, when he put his hand on her elbow and guided her to a deserted chapel, where she began to undress. As the barrister's voice grows low and sinuous, Yvonne realizes she's lost herself and the life she'd built so carefully to a man who never existed at all.
After their first liaison, Yvonne's lover tells her very little about himself, but she comes to suspect his secrecy has an explanation connected with the British government. So thrilled and absorbed is she in her newfound sexual power that she fails to notice the real danger about to blindside her from a seemingly innocuous angle. Then, reeling from an act of violence, Yvonne discovers that her desire for justice and revenge has already been compromised. Everything hinges on one night in a dark little alley called Apple Tree Yard.
Suspenseful, erotically charged and masterfully paced, Louise Doughty's APPLE TREE YARD is an intelligent psychological thriller about desire and its consequences by a writer of phenomenal gifts.
Apple Tree Yard
by Louise Doughty
Publication Date: January 13, 2015
Paperback: 336 pages
Publisher: Picador
ISBN-10: 1250062039
ISBN-13: 9781250062031