About the Book
About the Book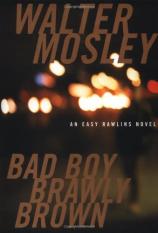 For the first time in six years, Easy Rawlins is back working a case on the streets of Los Angeles, looking for justice and sometimes managing to create his own.
Easy Rawlins's old friend John shows up at his door one morning, looking for the kind of help only Easy can provide. John's stepson, Brawly Brown, has left home and John has reason to think this well-meaning boy is caught up in a situation that's more dangerous than he knows. It doesn't take Easy long to find Brawly and to learn that John is right—but getting Brawly to see things that way is another matter.
Brawly has joined a political group that he believes is out to make things better for the residents of Compton. With years of seeing how things really work, Easy recognizes that young Brawly is just a pawn in a battle between forces as old and hard as the city's streets.
Through it all, Easy's old friend Mouse is there to help him—even though the last time Easy saw Mouse he was lying still and cold, and Easy is certain he's dead. Still, the memory and reputation of Mouse accompany Easy everywhere, earning him second looks from beautiful women and respect from hardened men. And in a world where logic is only a small element in life-or-death calculations, it is something Mouse once said to him that could help Easy save Brawly's life—without costing him his own.
The worldliness, relentlessness, and passion of Easy Rawlins have been sorely missed from the world of fiction. This thriller is proof that Walter Mosley is one of the masters of crime fiction, and as original a voice as any writing in America today.
Bad Boy Brawly Brown
by Walter Mosley
Publication Date: July 2, 2002
Hardcover: 320 pages
Publisher: Little, Brown
ISBN-10: 0316073016
ISBN-13: 9780316073011