About the Book
About the Book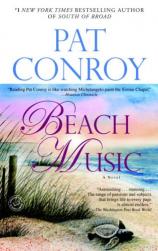 The novel tells of Jack McCall, an American who moves to Rome to escape the trauma and painful memory of his young wife's suicide leap off a bridge in South Carolina. The story takes place in South Carolina and Rome, then reaches back in time to the Vietnam War era and the horrors of the Holocaust.
It is a novel that concerns itself with the loss of innocence. It is about the acquisition of self-knowledge and about learning to accept where we come from. It is about the eternal quest for forgiveness --- seeking it in others, finding it in ourselves --- so that we can begin to live again. Ultimately, it is about reclaiming the past in order to prepare a background on the canvas of the future from which hope can finally flourish.
Remembrance. Reconciliation. Redemption.
With resonant prose and unmatched insight, Conroy throws open all of the doors and windows on the human condition, revealing to us with crystal clarity the perils of the war without as well as the war within.
Beach Music
by Pat Conroy
Publication Date: November 30, -0001
Genres: Fiction
Paperback: 800 pages
Publisher: Dial Press Trade Paperback
ISBN-10: 0553381539
ISBN-13: 9780553381535