About the Book
About the Book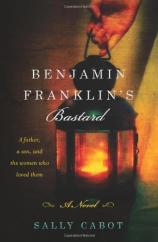 An absorbing and compelling work of literary historical fiction, set in colonial Philadelphia, that brings to life a little-known chapter of the American Revolution --- the story of Benjamin Franklin, his bastard son and the women who loved them.
Sixteen-year-old Anne is an uneducated serving girl at the Penny Pot tavern when she first meets the commanding Benjamin Franklin, and soon bears him a son she names William. But growing up a bastard amid the squalor of the Philadelphia slums isn't the life Anne wants for her boy. She makes a heartbreaking decision to give up William forever, allowing Benjamin and his common-law wife, Deborah, to raise him as their own.
Anne secretly watches out for her beloved child --- as Deborah struggles to accept him --- and takes great pride as William rises to become Royal Governor of New Jersey. But when the colonies begin to fight for independence from the British Crown, William is torn between allegiance to his beloved monarchy and his own father.
A poignant tale of passion, family, love, and war, Benjamin Franklin's Bastard skillfully draws together a remarkable cast of real characters to vividly re-create one of the most thrilling periods of history --- the birth of the American nation.