About the Book
About the Book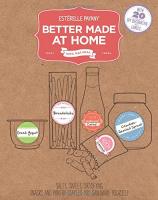 Instead of buying mass-produced, often unhealthy food products, why not make your own? From crisp sesame crackers to Greek yogurt to tapenade, let the more than 80 simple and delicious recipes in BETTER MADE AT HOME stock your pantry with staples that are better tasting and better for you.
In BETTER MADE AT HOME, French cookbook author Estérelle Payany shows us how to make delicious food we can feel good about eating. She takes more than 80 packaged foods normally found in delis or gourmet food shops --- from chips to chocolate pudding --- and replaces them with recipes for healthier, better-tasting alternatives that can be made quickly and easily right in our own kitchens. For breakfast, make your own muesli or crostinis with homemade strawberry jam. For lunch, try your hand at grinding meat for hotdogs topped with homemade ketchup or batter up some homemade, crispy fish nuggets for dinner. Recipes for treats include candies (lollipops, marshmallows, and caramels), snacks (barbecue popcorn, tortilla chips, and pretzel sticks), and desserts (buttery shortbread and chocolate sandwich cookies).
Beautiful photography combined with vintage illustrations make for a book that is both timely and timeless.
Better Made At Home
by Estérelle Payany
Publication Date: September 16, 2014
Genres: Cookbooks, Cooking, Nonfiction
Hardcover: 144 pages
Publisher: Black Dog & Leventhal Publishers
ISBN-10: 1579129765
ISBN-13: 9781579129767