About the Book
About the Book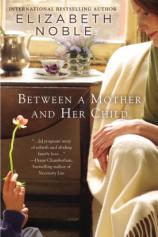 Twenty years after their impulsive marriage, Maggie and Bill Barrett are happily settled into the quiet comfort of their dream home with their three beautiful children. Then, the day after Christmas 2004, their world is shattered apart.
Feeling isolated, Bill leaves to try to discover peace on his own. Maggie shuts down, incapable of connecting with her children or even sleeping most nights. Getting by in a daze, she has no idea how to begin picking up the pieces of their lives.
Enter Kate: a woman who placed an ad in the paper to be a housekeeper and companion to a family. Kate has secrets and sorrows of her own, but her gentle caring has an immediate effect on the children --- and on Maggie herself. When Bill announces that he's fallen for another woman, Maggie realizes that she will have to fight to put her family back together. But after all they've been through, can anything truly fix their broken ties?
Between a Mother and Her Child
by Elizabeth Noble
Publication Date: September 3, 2013
Genres: Fiction
Paperback: 448 pages
Publisher: Berkley Trade
ISBN-10: 0425267938
ISBN-13: 9780425267936