Excerpt
Excerpt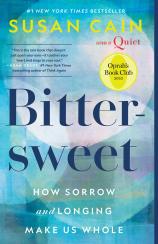 CHAPTER 1
What is sadness good for?
Before you know kindness as the deepest thing inside,
you must know sorrow as the other deepest thing.
—NAOMI SHIHAB NYE
In 2010, celebrated Pixar director Pete Docter decided to make an animated film about the wild and woolly emotions of an eleven-year-old girl named Riley. He knew the rough outlines of the story he wanted to tell. The film would open with Riley, uprooted from her Minnesota hometown and plunked down in a new house and school in San Francisco, while also caught in the emotional storm of incoming adolescence.
So far, so good. But Docter faced a creative puzzle. He wanted to depict Riley's feelings as lovable animated characters running a control center in her brain, shaping her memories and daily life. But which feelings? Psychologists told him that we have up to twenty-seven different emotions. But you can't tell a good story about so many different characters. Docter needed to narrow it down, and to pick one emotion as the main protagonist.
He considered a few different emotions for the starring role, then decided to place Fear at the center of the movie, alongside Joy; partly, he says, because Fear is funny. He considered Sadness, but this seemed unappealing. Docter had grown up in Minnesota, where, he told me, the sanguine norms were clear: "The idea that you'd cry in front of people was very uncool."
But three years into the development of the film—with the dialogue already done, the movie partially animated, the gags with Fear already in place, some of them "quite inspired"—he realized that something was wrong. Docter was scheduled to screen the film-in-progress for Pixar's executive team. And he was sure it was a failure. The third act didn't work. According to the film's narrative arc, Joy should have learned a great lesson. But Fear had nothing to teach her.
At that point in his career, Docter had enjoyed two mega-successes—Up and Monsters, Inc. But he started to feel sure that these hits were flukes.
"I don't know what I'm doing," he thought. "I should just quit."
His mind spun into dark daydreams of a post-Pixar future in which he'd lost not only his job but also his career. He went into preemptive mourning. The thought of living outside his treasured community of creatives and business mavericks made him feel he was drowning—in Sadness. And the more despondent he grew, the more he realized how much he loved his colleagues.
Which led to his epiphany: The real reason for his emotions—for all our emotions—is to connect us. And Sadness, of all the emotions, was the ultimate bonding agent.
"I suddenly had an idea that we needed to get Fear out of there," he recalls now, "and Sadness connected with Joy." The only problem was, he had to convince John Lasseter, who ran Pixar at the time, to place Sadness at the heart of the movie. And he was worried that this would be a tough sell.
Docter tells me this story as we sit in the airy, light-filled atrium designed by Steve Jobs for Pixar's Emeryville, California, campus. We're surrounded by larger-than-life sculptures of Pixar characters—the Parr family from The Incredibles, Buzz from Toy Story, all of them striking poses by sky-high glass windows. Docter enjoys cult status at Pixar. Earlier that day, I'd led an executive session on harnessing the talents of introverted filmmakers, and a few minutes into the proceedings, Docter had bounded into the conference room, instantly lighting up the room with his warmth.
Docter resembles an animated character himself, drawn mainly of rectangles. He has a gangly six-foot-four frame and a long face, half of which is forehead. Even his teeth are long and rectangular, the beanpoles of the dental world. But his most salient feature is the animation of his facial expressions. His smiles and grimaces convey a bright, winsome sensitivity. When he was a kid, his family moved to Copenhagen so his father could research a Ph.D. on Danish choral music. Docter didn't speak the language and had no idea what the other kids were saying. The pain of that experience drew him to animation; it was easier to draw people than talk to them. Even now, he's apt to create characters who live in treehouses and float away into a wordless dreamscape.
Docter was concerned that the executive team would find Sadness too glum, too dark. The animators had drawn the character as dowdy, squat, and blue. Why would you place a figure like that at the center of a movie? Who would want to identify with her?
Throughout this process, Docter had an unlikely ally: Dacher Keltner, an influential University of California, Berkeley, psychology professor. Docter had called in Keltner to educate him and his colleagues on the science of emotions. They became close friends. Keltner's daughter was suffering the slings and arrows of adolescence at the same time as Docter's, and the two men bonded over vicarious angst. Keltner taught Docter and his team the functions of each major emotion: Fear keeps you safe. Anger protects you from getting taken advantage of. And Sadness—what does Sadness do?
Keltner had explained that Sadness triggers compassion. It brings people together. It helps you see just how much your community of quirky Pixar filmmakers means to you.
The executive team approved the idea, and Docter and his team rewrote the movie—which ultimately won the Oscar for Best Animated Feature and was the highest grossing original film in Pixar history—with Sadness in the starring role.
When you first meet Dacher Keltner—who has flowing blond locks; the relaxed, athletic aura of a surfer; and a lighthouse-beam smile—he seems an unlikely ambassador for Sadness. His default state seems more like Joy. He radiates warmth and caring, and has a sincere politician's gift for seeing and appreciating others. Keltner runs the Berkeley Social Interaction Lab and the Greater Good Science Center, two of the world's most influential positive psychology labs, where his job is to study the emotional goodies of being alive: wonder, awe, happiness.
But spend some time with Keltner and you notice that the corners of his eyes turn down like a basset hound's, and that he describes himself as anxious and melancholic—as a bittersweet type. "Sadness is at the core of who I am," he tells me. In my book Quiet, I described the research of Harvard psychologist Jerome Kagan and Elaine Aron, which found that 15 to 20 percent of babies inherit a temperament that predisposes them to react more intensely to life's uncertainty as well as its glory. Keltner considers himself what Kagan would call a born "high-reactive," or what Aron would call "highly sensitive."
Keltner was raised in a wild and starry-eyed 1970s household. His father was a firefighter and painter who took him to art museums and taught him Taoism, his mother a literature professor who read him Romantic poetry and was especially fond of D. H. Lawrence. Keltner and his younger brother, Rolf, who were very close, roamed around nature at all hours of the day and night. Their parents encouraged them to figure out their core passions, and to build a life around them.
But in their quest to experience life in all its intensity, Keltner's parents moved the family at a dizzying pace: from a small town in Mexico, where he was born in a tiny clinic; to Laurel Canyon, a countercultural California neighborhood in the Hollywood Hills, where they lived next door to Jackson Browne's pianist and Keltner went to second grade at a school called Wonderland; to a rural farm town in the Sierra foothills, where few of his fifth-grade classmates were destined for college. By the time the family arrived in Nottingham, England, when Keltner was in high school, his parents' marriage had imploded. His father fell in love with the wife of a family friend; his mother started traveling back and forth to Paris to study experimental theater. Keltner and Rolf, left on their own, got drunk and threw parties. They were never a foursome again.
On the outside Keltner seemed—seems still—like a golden child. But the abrupt shattering had what he describes as a "long, enduring sad effect" on him and his family. His father mostly disappeared; his mother became clinically depressed; Keltner suffered three years of full-blown panic attacks. Rolf, who would grow up to be a dedicated speech therapist in an impoverished community, and a devoted husband and father, battled the demons of what one physician diagnosed as bipolar disorder: insomnia, binge eating, and regular beer and marijuana to calm his nerves.
Of all these unravelings, it was Rolf's struggles that shook Keltner most. Partly because his brother had been his anchor from the time they were small: In every neighborhood into which they crash-landed, they were boon companions, fellow explorers of the new terrain, tennis partners who never lost a doubles match. When the family fell apart, they fended for themselves, together.
Bittersweet: How Sorrow and Longing Make Us Whole
by by Susan Cain