About the Book
About the Book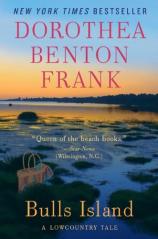 Elizabeth "Betts" McGee loved those lazy afternoons on pristine Bulls Island in the Carolina Lowcountry. But everything came crashing down when tragic fate --- coupled with nasty rumor and innuendo --- ended her engagement to Charleston golden boy J.D. Langley of the fabulously wealthy (and fabulously snooty) Langley clan. Betts left soon after, and she hasn't been back in nearly 20 years.
Successfully reinventing herself in New York City, Betts is now a top banking executive and heading up the most important project of her career, but it'll transform the untouched island she loved in her youth into something unrecognizable. And it's forcing her to return to the bosom of her estranged family, where she may not be welcomed with open arms. Worse still, it's uniting her with ex-flame J.D., who's changed...but perhaps not enough.
And then there's that crazy alligator...
Bulls Island: A Lowcountry Tale
by Dorothea Benton Frank
Publication Date: August 16, 2011
Paperback: 352 pages
Publisher: William Morrow Paperbacks
ISBN-10: 0062073222
ISBN-13: 9780062073228