About the Book
About the Book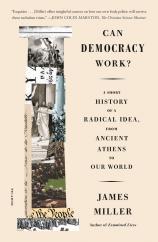 From the upheavals of the Arab Spring to recent court cases over voting rights in America, democracy is a cherished ideal fraught with challenges --- and it's always been that way.
In CAN DEMOCRACY WORK?, James Miller, the author of the classic history of 1960s protest "DEMOCRACY IS IN THE STREETS," traces the lively, surprising saga of democratic aspirations, beginning with self-rule in ancient Athens (where elections were considered inherently corrupt and therefore undemocratic) and proceeding through bloody uprisings and mob rule in Europe and the evolution of Jeffersonian democracy.
Culminating in the election of Donald Trump in 2016, the fascinating events covered in each chapter raise timely questions about the best way to ensure liberty and justice for all.
Can Democracy Work?: A Short History of a Radical Idea, from Ancient Athens to Our World
by James Miller