About the Book
About the Book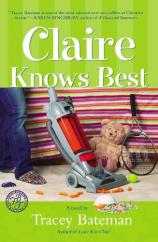 Claire Everett's life is finally on the right track. She is connecting with her four kids and getting along with her ex-husband and his pregnant wife. She's even attending church regularly. Now that she's dating Greg, the cute widower two doors down, her world should be in order. So how come life has suddenly become such a juggling act?
A tornado rips through her roof, forcing Claire and the kids to move. Greg has suddenly decided on a new career, and Claire's not one bit happy with his choice. And adding confusion to the chaos: Van, the local contractor, begins paying Claire too much attention; her teenage daughter's rebellion is creating big challenges; and her writing career is cooling off instead of heating up. When panic attacks threaten to make her a prisoner in her own home, Claire finally breaks down and hires a life coach to help her sort it all out. But is a life coach truly the answer?
Can Claire finally let go and admit that it is God directing her steps, or will she try to create her own destiny and insist that CLAIRE KNOWS BEST?
Claire Knows Best
by Tracey Bateman
Publication Date: June 15, 2006
Paperback: 304 pages
Publisher: FaithWords
ISBN-10: 0446696064
ISBN-13: 9780446696067