About the Book
About the Book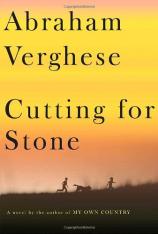 An epic novel that spans continents and generations, Cutting for Stone is an unforgettable story of love and betrayal, compassion and redemption, exile and home that unfolds across five decades in India, Ethiopia, and America.
Narrated by Marion Stone, the story begins even before Marion and his twin brother, Shiva, are born in Addis Ababa's Missing Hospital (a mispronunciation of "Mission Hospital"), with the illicit, years-in-the-making romance between their parents, Sister Mary Joseph Praise, a beautiful Indian nun, and Thomas Stone, a brash, brilliant British surgeon. Mary and Thomas meet on a boat out of Madras in 1947; she follows him to Ethiopia and to Missing, where they work side by side for seven years as nurse and doctor. After Mary dies while giving birth to the twins --- a harrowing, traumatic scene on the operating table --- Thomas vanishes, and Marion and Shiva grow up with only a dim sense of who he was, and with a deep hostility toward him for what they see as an act of betrayal and cowardice.
The twins are raised by Hema and Ghosh, two Indian doctors who also work at Missing, and who shower Marion and Shiva with love and nurture their interest in medicine --- part of the deep, almost preternatural connection the brothers share. They are so close that Marion, as a boy, thinks of them as a single entity: ShivaMarion.
Marion and Shiva come of age as Ethiopia hovers on the brink of revolution, and their lives become intertwined with the nation's politics. Addis Ababa is a colorful, cosmopolitan city: the Italians have left behind cappuccino machines, Campari umbrellas, and a vibrant expat community. But they've also left a nation crippled by poverty, hunger, and authoritarian rule: Ethiopia in the 1960s and 1970s is both bolstered and trapped by its notorious emperor, Haile Selassie, and rocked by violence and civil war.
Yet it is not politics but love that tears the brothers apart: Shiva sleeps with Genet --- the daughter of their housekeeper and the girl Marion has always loved. This second betrayal, now by the two people this sensitive young man loves most, sends Marion into a deep depression. And when Genet joins a radical political group fighting for the independence of Eritrea, Marion's connection to her forces him into exile: he sneaks out of Ethiopia and makes his way to America.
Marion interns at a hospital in the Bronx, an underfunded, chaotic place where the patients are nearly as poor and desperate as those he had seen at Missing. It is here that Marion comes to maturity as a doctor and as a man. It is here, too, that he meets his father and takes his first steps toward reconciling with him. But when the past catches up to Marion --- nearly destroying him --- he must entrust his life to the two men he thought he trusted least in the world: the father who abandoned him and the brother who betrayed him. The surprising, stunning denouement both arises from and reenacts the major themes of Cutting for Stone: love and betrayal, forgiveness and self-sacrifice, and the inextricable union of life and death.
In Cutting for Stone, renowned physician Abraham Verghese has given us a remarkable reading experience that explores the lives of a memorable cast of characters, many of them doctors; the insight the novel offers into the world of medicine, along with its wealth of precise detail about how doctors work, is unparalleled in American fiction. Verghese is so attuned to the movements of the heart and of the mind, so adept at dramatizing the great themes of human existence, and he has filled this world with such richly drawn, fascinating characters, that Cutting for Stone becomes one of those rare books one wishes would never end, an alternate reality that both rivals and illuminates the real world readers must return to when the book is closed
Cutting for Stone
by Abraham Verghese
Publication Date: February 3, 2009
Genres: Fiction
Hardcover: 560 pages
Publisher: Knopf
ISBN-10: 0375414495
ISBN-13: 9780375414497